Nigerians Roast Obiano Over Onitsha Tanker Explosion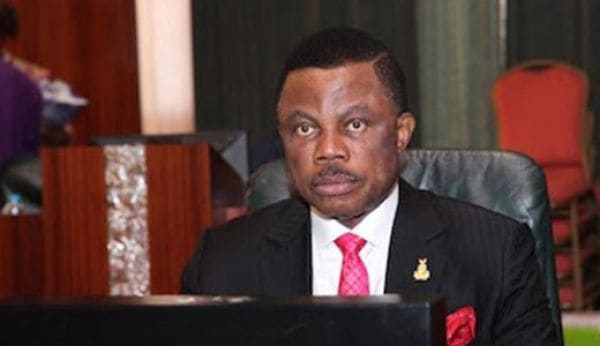 Nigerians have taken to the micro-blogging site, Twitter, to berate Governor Willie Obiano of Anambra State over the fire accident at the Ochanja market, the second biggest market in Onitsha.
Naija News had reported earlier that the inferno started when the tanker spilled its product and subsequently ignited the fire outbreak.
Reacting to the tragic incident in a statement on Wednesday evening, Stella Oduah, the senator representing Anambra North Senatorial District at the Nigerian Senate, commiserated with those who lost properties and their loved ones in the fire accident.
Senator Oduah berated the inability of the Anambra State government led by Governor Willie Obiano to provide fire service stations in the market in case of such emergencies, despite the heavy taxes imposed on traders on a daily basis.
The Anambra North lawmaker called on the state government to ensure that "preventable incidents like this never rear their ugly heads again."
"The pictures and video clips of goods and properties burning to ashes with no help in sight is not only disheartening but completely unacceptable and I call on all those collecting funds in the form of various levies from these poor traders to step up their game so as to avert such avoidable disasters in the future," the senator said.
Like Senator Oduah, Nigerians also berated Governor Obiano over the incident with some calling on him to resign for what they described as negligence and incompetence.
Naija News captured some of the reactions below…
#PrayForOnitsha
No fire fighters intervened until the Delta state govt came to the rescue . Meanwhile @innosonvehicles have fire fighting trucks in ANAMBRA , so why tf can't ANAMBRA state govt get one from them, only to get help from the neigbouring state.
Disgrace Obiano ❌ pic.twitter.com/bNT3u4sA40

— chimdihenry (@Chimdihenry) October 16, 2019
Dear Anambra Governor, Willie Obiano, someone will pay dearly for the avoidable deaths that occurred today in #Onitsha.

We have tolerated your irresponsible leadership in Anambra for far too long.

— Henry Shield (@henryshield) October 16, 2019
A cluster city like Onitsha with plenty of markets everywhere, yet no Fire Service. This is what I've been clamouring years, we don't have a government in Anambra State. Willie Obiano is only concern with his showbiz and nothing else. pic.twitter.com/CFzZPHp62v

— Leéwárd Iyké ?? (@Leeward_IK) October 16, 2019
Public information:
Willie Obiano is not working…
It s a disease, Anambra Government needs recuperate…#onitshafireoutbreak #OnitshaFire #onitshaonfire pic.twitter.com/lVvlshccOF

— ~Paschal Chukwuebuka (@Paschy_Noriz) October 16, 2019
Willie Obiano could have entered the fire. That what haters love to say and feel achieved. If you are not an Anambrarian, pls focus on Buhari. Did Notre Dame not catch fire?, Parts of White House nko. Ndi Ara everywhere #OntishaonFire pic.twitter.com/RZn71Tr9SE

— Vaal Cee (@VaalCee) October 16, 2019
Obiano is a failure…This man shouldn't be the governor by tomorrow pic.twitter.com/oXLCPWLMRw

— LONDON used BOYFRIEND(Akan) (@london_used) October 16, 2019
Barely one week after I made a post on how Obiano sold Onitsha fire service compound to himself through a front, comes the inferno that raged on till 10pm and still counting, yet the government is not bothered at all.#OnitshaFire #AnambraIsInruins pic.twitter.com/fcja1oujJe

— odumodugbulagu (@odumodugbulagu) October 16, 2019
This is incompetence and corruption at the highest level.
If Nigeria was a Nation occupied by human beings Governor Willie Obiano would be made to resign tomorrow!
But we have sold our birth rights for fear! https://t.co/xfYYSCI6XZ

— Aisha Yesufu (@AishaYesufu) October 16, 2019
As usual, Obiano will go Onitsha most likely tonight or tomorrow with his caricature self, give 10mins talk, the idiots there will clap for him, he will go home and life continues. Whoever did this thing to us, e no go better for am. Tufia!

— Unu amaro kam si kwado (@AfamDeluxo) October 16, 2019
How much is fire service trucks that Willie Obiano can't be able to facilitate? With all the revenues been generated in Onitsha

— Chief Ezekwueche ? (@FBanks7) October 16, 2019
Fire started 12p.m in onitsha anambra state, Asaba fire service came in at 4p.m & couldn't help things, as am tweeting (20:49) ochanja is still on SERIOUS Fire and anambra fire service are no where to be found, nobody is sleeping in dis neighbourhood tonight, obiano issa failure

— ORJIBRAIC (@Orjibraic) October 16, 2019
We have the most useless Gov in anambra state.. The event that happened in Onisha today, shouldn't have happened if we had a serious thinking Gov.. A market like that won't have a working fire service truck. Obiano is just so useless..

— Emma ik Umeh (Tcee )???? (@emmaikumeh) October 16, 2019
Willie Obiano escapes this one https://t.co/BjCGIy2gfV

— Chief Ezekwueche ? (@FBanks7) October 16, 2019
God bless delta State and Governor Okowa for salvaging the situation today in Onisha.

Anambra State does not have a firefighting truck .

Willie Obiano is a failure.

— Emma ik Umeh (Tcee )???? (@emmaikumeh) October 16, 2019
Am so sad with the tragedy that happened it was a conflaguration in Onitsha , it show that Willie obiano is a laggards and a debilitates governor for the state fire service not able to respond in time …… #PrayForOnitsha

— ES (@_shedrack10) October 16, 2019
Innoson( IVM) produces firefighting trucks in Anambra but Anambra State government doesn't have a firefighting truck. The inferno in Onitsha started and ended without any intervention. #PrayForOnitsha

Obiano is a failure. pic.twitter.com/mfki8Skvcm

— ONYEDIKA ANAMBRA (@governmentson) October 16, 2019
Oh! My Onitsha! ???

Pray for Onitsha,
Pray for Onitsha business men, @Gov_Obiano pls kindly resign, you are not fit to govern this state. #ObianoOut#obianohasfailed pic.twitter.com/cNc7DZjFjK

— Nwata anayo Chieftaincy. (@okaforevans2) October 16, 2019
Download NAIJA NEWS app: