Stella Oduah Reacts To Onitsha Tanker Explosion, Tells Obiano What To Do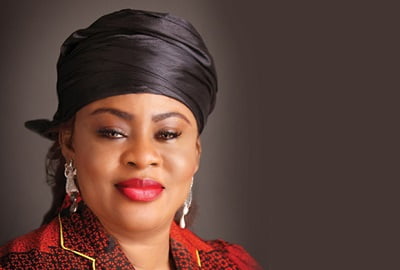 Stella Oduah, the senator representing Anambra North Senatorial District at the Nigerian Senate, has commiserated with those who lost properties and their loved ones in the fire accident at the Ochanja market, the second biggest market in Onitsha, Anambra State.
Naija News had reported earlier that the inferno started when the tanker spilled its product and subsequently ignited the fire outbreak.
Reacting to the tragic incident in a statement on Wednesday evening, Senator Oduah berated the inability of the Anambra State government led by Governor Willie Obiano to provide fire service stations in the market in case of such emergencies, despite the heavy taxes imposed on traders on a daily basis.
The Anambra North lawmaker called on the state government to ensure that "preventable incidents like this never rear their ugly heads again."
The statement reads as thus;  "My heart goes out to the helpless victims of the still-raging fire outbreak at Ochanja Market, Upper-Iweka axis Onitsha whose lives have been cut short and traders who have had to watch as their goods and properties worth millions of Naira have gone up in flames unchallenged," she said.
"Incidentally, Ochanja market is a major source of huge revenue as poor traders are heavily taxed daily and one would have expected that a minute portion of these humongous funds should have been set aside to set up a functional fire fighting service with state of the art equipment to avert disasters like we are witnessing today.
"It goes without saying that no market should exist without a functional fire fighting equipment, steady water supply and a well trained and motivated fire fighting service, ready to deploy at the shortest possible time and the authorities must ensure that preventable incidents like this never rear their ugly heads again.
"The pictures and video clips of goods and properties burning to ashes with no help in sight is not only disheartening but completely unacceptable and I call on all those collecting funds in the form of various levies from these poor traders to step up their game so as to avert such avoidable disasters in the future.
"I have directed my team who have been giving me on the spot assessment to come up with a final report so as to know where and how we can come in to at least provide some succour for these hardworking men and women whose only "crime" is that the system they relied on, failed them," the statement added.
Download NAIJA NEWS app: