Donald Trump Set To Impose Stiffer Penalties On Turkish Government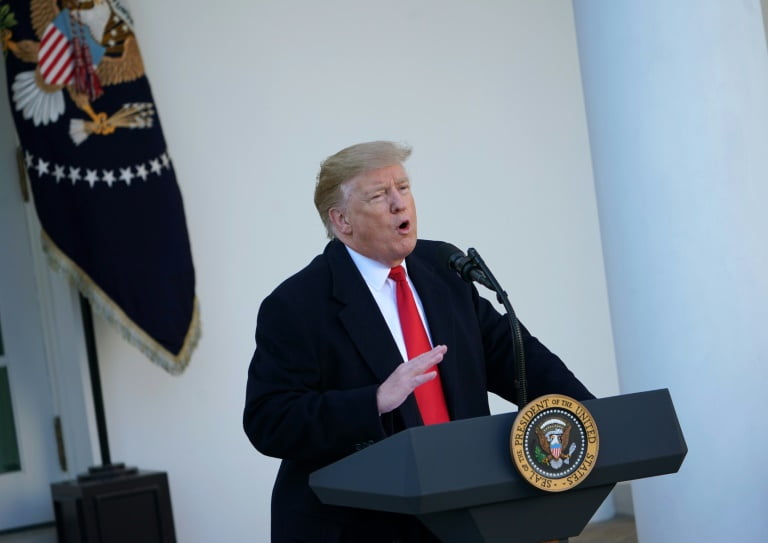 The United States President, Donald Trump is set to impose further tariffs and sanctions against Turkey in protest of the Turkish government's offensive into Syria.
Speaking through his twitter handle, the United States President has promised to issue an executive order to allow sanctions on sitting and former Turkish officials to restrain them from their actions.
https://twitter.com/realDonaldTrump/status/1183833640507269120?s=20
Naija News understand that Trump's action follows sharp criticism in the week since the White House announced Turkey was going forward with its long-held plans to try to carve out a buffer zone along its border with Syria free from the U.S.-backed Kurdish fighters it accuses of being terrorists linked to separatist Kurds in Turkey.
Turkey's incursion pushed the Syrian Democratic Forces to reach an agreement with the Syrian government that has brought Syrian troops back into the northeastern part of the country for the first time in years, including on Monday reaching the town of Manbij.
It is understood Trump spoke Monday with both Turkish President Recep Tayyip Erdogan and General Mazloum Kobani, the head of the mostly Kurdish SDF that the United States has relied on to battle Islamic State militants in Syria.
Meanwhile, the U.S. Democrats and Republicans have faulted the Trump administration for what is unfolding, saying the withdrawal of U.S. forces from the area cleared the way for the U.S. ally SDF to be put in danger as well as the potential for Islamic State militants under SDF detention to break free and stage a resurgence.