Jonathan Speaks On Sowore's Treason Charge, Tells Omokri What To Do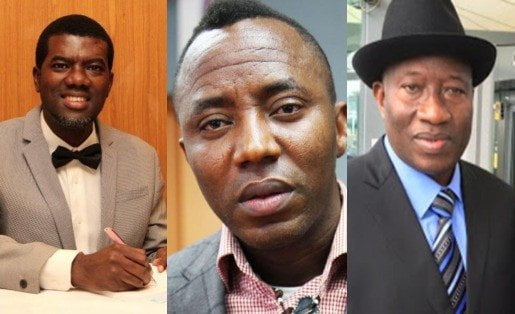 A former Nigerian President, Goodluck Jonathan, has reportedly reacted to the treason charge levelled against Omoyele Sowore, the publisher of Sahara Reporters by the Federal Government led by President Muhammadu Buhari.
Naija News recalls that the administration of President Buhari filed seven counts of treasonable felony and money laundering against Sowore.
This online news platform understands that the charges against Sowore were filed a day before the expiration of the detention order of the Federal High Court in Abuja, permitting the Department of State Services (DSS) to keep Sowore for 45 days.
Reacting to the charges against Sowore, who was his critic during his administration, Jonathan reportedly told Reno Omokri, his then media aide, to assist Sowore in whatever way he can, noting that the 2019presidential candidate "fought" his (Jonathan) administration because he was not aware of what he was doing at the time.
Revealing the detail of his discussion with the former President, Omokri wrote: "I just spoke to former President Jonathan, and urged him to read my column in today's @thisdaylive titled: "Sowore and Buhari: A Bromance Gone Sour!" He responded, 'Reno, I prefer that you pray for the young man. Help him if you can. He didn't know what he was doing,' Omokri quoted Jonathan to have said.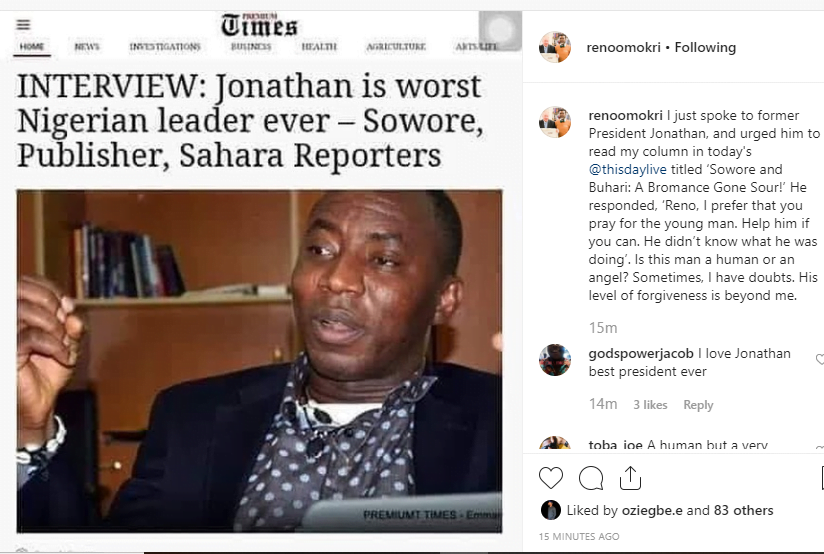 Shocked by Jonathan's response, Omokri asked if the former President is human or an angel, saying: "Is this man a human or an angel? Sometimes, I have doubts. His level of forgiveness is beyond me."
Source: Naija News