AGF Malami Speaks On Plan To Probe Lawan, CJN Tanko, Others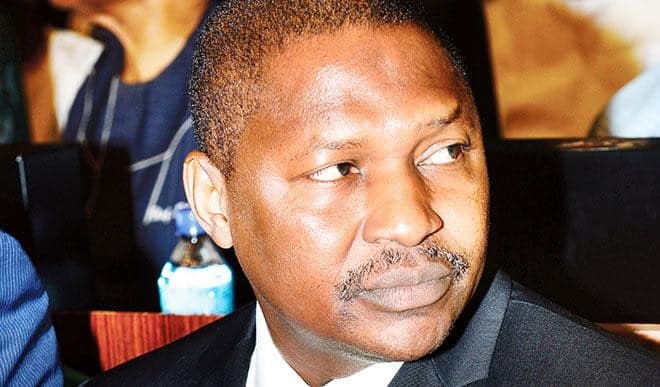 The Attorney General and Minister of Justice, Abubakar Malami (SAN), has denied alleged plans of the Nigeria Financial Intelligence Unit (NFIU) to screen the accounts belonging to judges and principal officers of the National Assembly.
Naija News reports that the NFIU had commenced an investigation into bank accounts belonging to Senate President Ahmed Lawan, Speaker of the House of Reps Femi Gbajabiamila and other principal officers of the National Assembly.
The Financial Intelligence agency is also investigating accounts owned by Nigeria judges, including the Chief Justice of Nigeria (CJN), Tanko Muhammad.
In a letter dated September 10, 2019, and signed by NFIU Associate Director, Analysis and Compliance, Fehintola Salisu, the Chief Compliance Officers of banks were directed to release the account details of all legislators and judiciary officials in the country.
NFIU asked the banks to provide account names, numbers and transaction details of the top civil servants.
Although it listed judges and national assembly members as well, there was no mention of any member of the executive arm of government.
Speaking to newsmen, Malami stated that the NFIU has the capacity to look into accounts of any individual and institution.
He said: "One thing I want to categorically state and make clear is that the NFIU, by its competency and capacity, is well placed to have information relating to accounts of individuals and institutions without any recourse to a third party.
"So, in effect, the idea of making a formal claim does not even arise because the NFIU is the custodian of the information and it is very well placed by law to analyse and have a very forensic analysis of the information at their disposal.
"The NFIU had indeed issued a formal statement to the effect that there was nothing of that nature taking place. There was no investigation; no cause for such investigation as it is.
"And if indeed there exists such a cause, there could have been no basis for a formal request for it from institutions because it is the institution that is legally, logically and inherently vested to do the job."