See Photos Of Protesting IPOB Members Waiting For Buhari In Japan
Photos of protesting members of of the Indigenous People of Biafra (IPOB) waiting for President Muhammadu Buhari to arrive Japan have surfaced on the internet.
Naija News reports that the photos which surfaced online on Monday morning, shows the IPOB members wearing Biafra attire and carrying placards carrying various inscriptions.
This online news platform understands that the protest by the IPOB members is coming after its leader, Nnamdi Kanu said he had written the Emperor of Japan, over President Muhammadu Buhari's visit to the Asian country.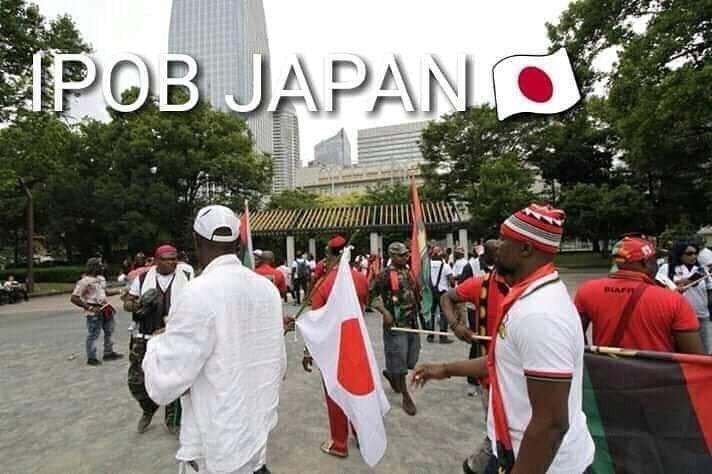 Naija News reports that the President departed Nigeria for Japan on Sunday, August 25,  to participate in the Seventh Tokyo International Conference on African Development (TICAD7) holding in the City of Yokohama from August 28 to August 30.
Before President Buhari's visit to Japan, Kanu had earlier instructed members of the pro-Biafra group to arrest the President when he arrives.
In a statement signed by Emma Powerful, IPOB's spokesperson, Kanu had urged his followers to arrest President Buhari and hand him over to security operatives because he is an impostor.
"The formidable IPOB family in Japan is hereby placed on direct order to ensure the impostor Jubril Al-Sudani, masquerading as the late dictator Muhammadu Buhari, is arrested and handed over to the authorities when he sets foot on Japanese soil," the statement read.
Days after the statement by the IPOB spokesman, another statement emerged stating that Kanu has written the Emperor of Japan over the President's visit to Japan.
A copy of the letter which was obtained by Vanguard Newspaper showed that Kanu asked the Emperor of Japan to "use his considerable standing as the symbol of Japan to demand an honest investigation" into the allegation that President Buhari is an impostor whose name is Jubril Al-Sudanni from Sudan.