Nigerians React As Wike Allegedly Demolishes Trans-Amadi Central Mosque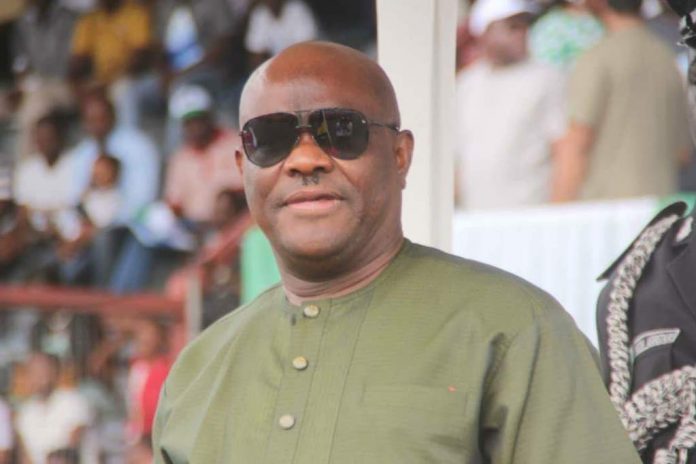 Several individuals, Muslim communities and organisations have berated the PDP led government in Rivers State over the alleged demolition of Trans-Amadi Central Mosque in Port Harcourt.
Speaking on how the mosque was demolished, the chairman of the mosque, Alhaji Abdullahi Musa Tabaco, said the mosque was demolished on August 20 by government officials. He also said the officials came with armed policemen, pulled down the fence and the foundation of the mosque which had gone up to DPC level, citing non-compliance with the state urban development laws.
In a reaction to the incident, the imam of the mosque, Alhaji Haroon Muhammed, also said:
"This is the most populated mosque. Muslims all over the world can see what has happened to a mosque that is duly approved by the state government. We have been harassed three times now – once on the 29th of last month,then on August 16 and 20 without any formal notice."
Other reactions on twitter are as follows
The pulling down of a Mosque by Governor Wike by claiming Rivers State is a Christian state and no mosque will stand will come with great consequences if care is not taken to stop the madness now. pic.twitter.com/00w0dftSM6

— miyake airemen (@officialmiyake) August 26, 2019
Wike(wicked) mosque demolition making Igbo presidency impossible. pic.twitter.com/CcIoiKZW6r

— ibn Abdoul-lerhee (@ShuUba01) August 26, 2019
Now that Wike is demolishing legally built mosques, no man of God is criticising him.

Until El Rufa'i or Masari tries something similar, people like Rev. Matthew Kukah will see "Islamization" in it.

Double standards!

— Abu Laila (@de_thanibawuro) August 26, 2019
I don't blame Wike at all, at least he stood for what he believes. It should be a good practice nationwide. ??‍♂️

— Faisal (@mr_phaisal) August 26, 2019
I haven't seen one tweet where they deny Wike didn't demolish the mosque backed with evidence. Either way, I know there is foul play in that situation. People are free to build their mosques and Churches everywhere in the north, we will all see the consequences of our actions

— Mu'awiyyah Muye (@MP_Muye) August 26, 2019
Governor Wike can only demolish Mosque and
Not Islam in Rivers State.
May Allah protect Islam and Muslims all over the world?

— I Z A L A (@el_uthmaan) August 26, 2019
I'm appalled by what happened in the oil rich state of Rivers where a mosque in the Trans Amadi area was demolished by Wike. Recall that sometime this year, he declared Rivers a Christian state which violates section 10 of our constitution which says…@ZamfaraNewMedia 1/2 pic.twitter.com/IUBxgy4aXn

— Mayor of Zamfara ? (@Dr_Fauzuddeen) August 26, 2019
Writer Gimba Kakanda, has come under criticism for falsely accusing Rivers State Governor, Nyesom Wike, of demolishing the Trans-Amadi Central Mosque in Port Harcourt.

The video which he has deleted pic.twitter.com/fCDBX1eWfc

— nanoscroll (@nanoscroll1) August 26, 2019
#FakeNews
Na wa o!
This Governor Wike is wicked. He just demolished a non existent mosque at Trans Amadi in Port Harcourt. ???

— Mas Que Nada (@el_lazarus) August 26, 2019
I ask the question to Rivers State Governor why demolishing the Trans-Amadi central mosque in Port Harcourt? pic.twitter.com/6P1pyc9GLh

— students Teacher (@AnasNaummee85) August 26, 2019
Imagine Mosque in Trans-Amadi. Please accordance to Rivers state town planning rule. Are religious buildings supposed to be erected in Trans-Amadi?

— @Krorves (@EfreKufre) August 26, 2019
I ask the question to Rivers State Governor why demolishing the Trans-Amadi central mosque in Port Harcourt? pic.twitter.com/6P1pyc9GLh

— students Teacher (@AnasNaummee85) August 26, 2019
Gov Wike of Rivers stateDemolishes Multi-million Naira Trans-Amadi Central Mosque in Rivers.

Just Imagine For A Minute If @MBuhari, @elrufai Or @GovUmarGanduje Plans To Demolish A Church In Abuja,Kaduna Or Kano. The Country Would Have Been On Fire ? With The Islamisation Of Nig pic.twitter.com/z3JHSk5hHO

— Al-Assad Al-Amin (@AlAssadAlAmin2) August 26, 2019
I live at ph city, there's a mosque in trans Amadi which is not built,the mosque here are even a handful sef so if anything happens one we the Muslims would know,so no nothing of such happened it wasn't even constructed to start with…

— بشيرة?❤️ (@idris_bashira) August 26, 2019
We all know Trans Amadi industrial layout where the state urban planning stipulates "No religious buildings are erected there " The Kings assembly purchased a land at Trans-Amadi for years now but building permit was denied by subsequent administration till date. It's the law!

— @Krorves (@EfreKufre) August 26, 2019
As you have gallantly spread hate, it's wise you also enlighten yourself that there was no mosque in Trans-Amadi.
It's always easy to spread negativity/fake news and you may never know how far it may go

— General Overseer (@BorisAwesome1) August 26, 2019
I was confused when I saw his post yesterday because there is no structure on the central mosque that I know in Trans Amadi. They only use it for Friday prayers. It's just a low-fenced land except if there is anther one. https://t.co/0ADlFRHoSP

— 'niyi (@judeofGod) August 26, 2019