Mbaka Speaks On Anger Of God On Buhari, Resigning From Priesthood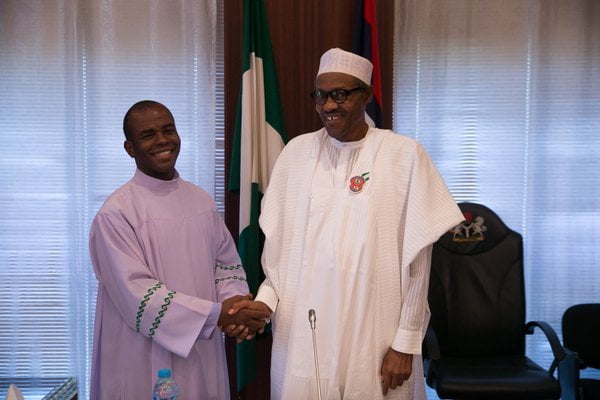 Rev. Fr. Ejike Mbaka, the Spiritual Director of Adoration Ministry in Enugu, southeast Nigeria, has debunked reports quoting him to have said that God is angry with President Muhammadu Buhari.
A report monitored on Exclusive103 by Naija News, had quoted Mbaka to have made this statement during his Adoration Ministry in Enugu when he was addressing his congregation last week Thursday.
Naija News recalls that Mbaka, who predicted President Buhari's reelection, was quoted to have made this comment in reaction to Rev. Ebube Muonso, who accused him of being a fake prophet.
However, reacting to the report in a statement made available to journalists on Monday, August 12, Mbaka described it as the handiwork of his enemies.
Denying the report, Mbaka said, "Please fellow children of God, help me to tell the world that, I Rev Fr Mbaka Ejike Camillus never prophesied anything about 1st October.
"That is not from me. I have not told anyone, at any time or place that I will resign from priesthood by 1st October.
"That is the handiwork of my demonic enemies.
"I don't hold Adoration Ministry on Thursday as the story claims and I never at any time told anyone that heavy rain will fall upon Aso Rock and that God is angry with President Buhari.
"The spreading media report is a wicked character assassination from the accursed demonic agents of darkness.
"I never prophesied anything about 1st October nor against Mr. President. Why are people attracting curses and God 's vengeance upon themselves," Mbaka said.