Release Sowore Immediately – PDP Chairman Tells Buhari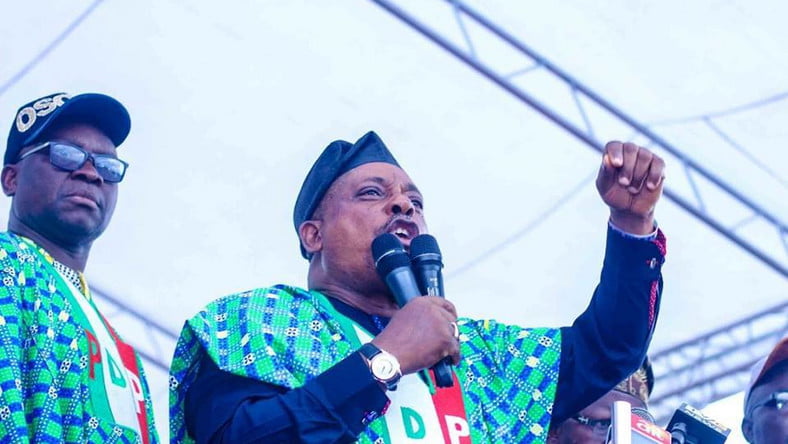 The National Chairman of the Peoples Democratic Party (PDP), Nigeria's main opposition party, Uche Secondus, has urged President Muhammadu Buhari to order the immediate release of Omoyele Sowore, detained convener of Revolution Now Movement.
Naija News reports that the PDP Chairman made this call in Yola, the capital of Adamawa State, northern Nigeria on Tuesday when he paid a condolence visit to Governor Ahmadu Fintiri following the demise of his father, Umaru Badami.
"I'm calling on President Buhari to release Sowore immediately and unconditionally because this is not done in any democracy.
"What is happening today makes us feel we are in a military era. They should also release all political prisoners," the PDP Chairman said.
Naija News recalls that Sowore, who was the flagbearer of the Presidential candidate of the African Action Congress (AAC) in the February 2019 presidential election, was arrested by operatives of the Department of State Services (DSS).
Narrating Sowore's arrest in a social media post, his driver, who refused to disclose his identity, said Sowore was picked up in a "Gestapo manner" by the DSS.
"At around past 1 am, the armed men knocked on the door. I noticed immediately that these knocks were strange. And didn't open. I looked and I saw men armed to the teeth," he wrote.
"They started forcing their way in like armed robbers. But I knew they were DSS men, knowing fully well the attention RevolutionNow has garnered. Sowore wanted to open at first but I immediately told him who they are. He retreated and like magic, he was not in the room when they forced their way in- 8 of them.
"That was when he managed to tweet. By this time, I had been beaten and handcuffed. Phones were snatched from me. An order to block all exits came from the leader when Sowore was not found inside. He was later arrested at the gym in a Gestapo manner and dragged after a bit altercation," Sowore's driver added.
Reacting to Sowore's arrest, the DSS said the pro-democracy activist was arrested because he crossed the red line.