Nigerian Navy Recruitment 2019: Full List Of Shortlisted Candidates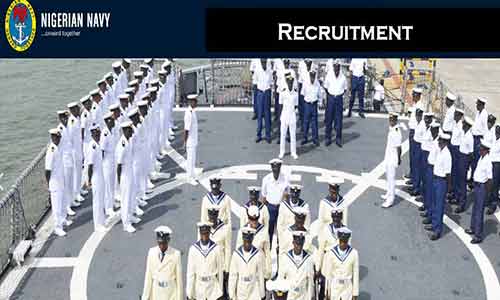 The Nigerian Navy has released names of successful candidates in its 2019 Recruitment Aptitude Test which took place April 13.
Naija News reports that this was contained in a statement published on official website www.joinnigeriannavy.com on Tuesday, July 16.
The statement said the candidates are to appear for an interview at the Nigerian Navy Secondary School Ojo, Navy Town, Lagos from Monday 29 July – Tuesday 27 August 2019.
According to the statement, the interview will include screening/verification of credentials/certificates, medical/physical and written tests. Candidates are to come along with required items.
The statement advised successful candidates  to come along for the interview with the originals and photocopies of their credentials, originals and photocopies of valid Drivers' License (Category H only), writing materials,Two pairs of navy blue shorts and 2 white (unmarked) T-Shirts,a pair of canvas/trainer and stockings, Bedsheets and pillowcases,set of cutlery and Four (4) recent 30 x 30 passport sized photographs on white background.
In the same vein, the statement warned that any candidate who fails to report for screening on the stipulated date for his/her Batch will forfeit his/her candidature.
"Candidates will be interviewed individually and if it is found that any of the candidates do not fulfill the eligibility criteria, his/her candidature shall be terminated at any stage of the recruitment process.
"If any information/declaration given by the candidates at any time during the entire selection process is found to be fake/false/wrong, his/her candidature shall be canceled and he/she shall be handed over to the Nigeria Police Force for possible prosecution.
"Failure by any applicant to provide accurate information concerning
his/her medical history during the entire selection process as stated on the Medical Examination Pro forma will result to automatic withdrawal from training and dismissal even when already in the Service.
"The candidates are to attend the interview by states in the following
order:
Batch A. Monday 29 Jul – Wednesday 7 August 2019.
(1) Anambra.
(2) Akwa Ibom.
(3) Bayelsa.
(4) Delta.
(5) Edo.
(6) Ekiti.
(7) Kwara.
(8) Imo.
(9) Ogun.
(10) Ondo.
(11) Osun.
(12) Oyo.
Batch B. Thursday 8 – Saturday 17 August 2019.
(1) Abia.
(2) Benue.
(3) Borno.
(4) Cross River.
(5) Ebonyi.
(6) Enugu.
(7) FCT.
(8) Gombe.
(9) Lagos.
(10) Nasarawa.
(11) Niger.
(12) Rivers.
Batch C. Sunday 18 – Tuesday 27 August 2019.
(1) Adamawa.
(2) Bauchi.
(3) Jigawa.
(4) Kaduna.
(5) Kano.
(6) Katsina.
(7) Kebbi.
(8) Kogi.
(9) Plateau.
(10) Sokoto.
(11) Taraba.
(12) Yobe.
(13) Zamfara.
Check your name below…
Nigerian Navy List of Successful Candidates for Recruitment 2019