See Update On Rape Allegations Against COZA's Biodun Fatoyinbo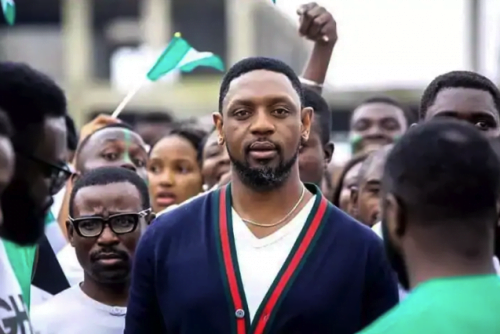 #PastorStepDown, Nigerians Tweet
Voices have not ceased over Pastor Biodun Fatoyinbo's rape scandal as twitter handles have evolved from #IstandwithBusolaDakolo, #IStandWithTheTruth and now it is #PastorStepDown.
Naija News understands that the last has not been heard since Mrs. Busola Dakolo narrated her rape experience with Pastor Fatoyinbo while she was age 16.
Though the Pastor denied the allegations, many have continued to comment and debate on the issue. Many believing it was the truth told by the victim, a few noting that is false and others just waiting for the truth to be revealed.
See Tweets calling for Pastor Fatoyinbo to step down, below
COZA members online: This is the work of the devil #PastorBiodun is innocent

After saturday morning devotion

COZA Parents to their daughters: I hope Pastor has never touched in anyway.
BLOODY HYPOCRITES #istandwithBukolaDakolo #IStandWithTheTruth #ChurchToo #PastorStepDown

— Odion_omoiyabeji (@OdionOmoIyabeji) June 29, 2019
I saw this during the 2019 election period.
This is Rev King, as in Rev King the Killer and rapist.
Though I checked then, and the original candidate wasn't him.
But my point is, no matter the #PastorStepDown or #IStandWithTheTruth we do. pic.twitter.com/ZBT1L3zRfW

— Upcoming Bill Gates ➐ (@FavoredSinner) June 29, 2019
Fela saw the future. "Pastor's house na him dey fine pass…pastor's dress na him dey clean pass …pastor na him dem give respect pass….and dem dey do bad, bad, bad things" God bless his soul. #istandwithBukolaDakolo #pastorbiodunfatoyinbo #COZA #PastorStepDown pic.twitter.com/n01axkkPC5

— Cicero Otukpo (@EwaocheOgo) June 29, 2019
"A church leader must be a man whose life is above reproach. He must be faithful to his wife. He must exercise self-control, live wisely, and have a good reputation." 1Tim3:2a

The bible requirement to be Pastor.

You know what that meins@BiodunFatoyinbo?#PastorStepDown biko.

— OurFavOnlineDoctor ? ? (@DrOlufunmilayo) June 29, 2019
Waking up this morning to DMs from past members/workers of COZA narrating their ordeals. They don't know each other, 2 of them are strangers to me. Their stories are similar, some were lucky to get away some weren't. Some were threatened by the church #PastorStepDown

— Kemi Lala Akindoju (@lalaakindoju) June 29, 2019
Even the Holy spirit that Pastor Biodun is supposed to be filled with Sought Mary's consent before coming upon her.

You cannot be disrobing & "dispanting" young virgins anyhow & think the Holy spirit will not forsake you.

Holy spirit don't move like that.#PastorStepDown pic.twitter.com/Lb2xsGxaab

— Gentleman Bastard (@ozee_ozee) June 29, 2019
It's better to know that you're not that perfect and be living your life with bitter truths in ordinary world than living a pretentious perfect life full of lies and covering them with church as a so-called Man of God …#PastorStepDown for now ???

— A D E B A Y O (@Izumichaels_Iam) June 29, 2019
If you spoke up against the COZA Pastor atrocities against women, your voice was not a waste.

For the FIRST time in about 20years of sexual abuse and manipulation, he openly responds to allegations.

For the first time, he feels threatened.

That's no small feat.#PastorStepDown

— OurFavOnlineDoctor ? ? (@DrOlufunmilayo) June 29, 2019