Nigerian Army Colonel Killed, Soldiers Missing After Fresh Boko Haram Attack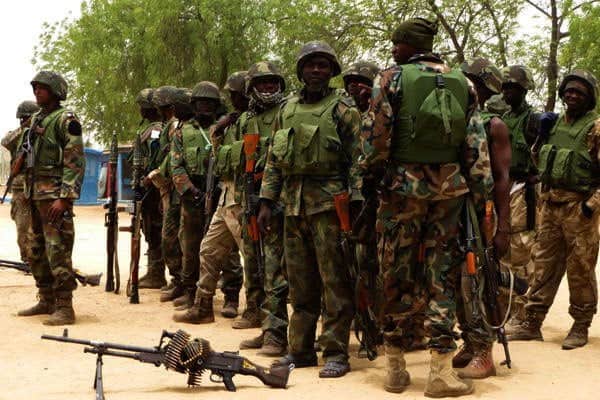 A Nigerian Army Lieutenant Colonel has been killed alongside other officers of the Army during a raid of the military base in Borno near the border with Niger.
Naija News understands that the insurgents killed several troops of the military and stole weapons belonging to the slain officers during the attack.
Army sources revealed that the army Lieutenant Colonel was the leader of the 153 Troops Battalion in Kareto.
The sources revealed that the insurgents who are suspected to be fighters from the Islamic State West Africa Province (ISWAP) in eight gun-trucks launched a pre-dawn attack on Thursday on the base in Kareto village, 335 kilometres (210 miles) north of the Borno state capital Maiduguri.
"The terrorists attacked the 153 Troops Battalion in Kareto around 4:00 am (0300 GMT) and subdued the soldiers who were forced to withdraw after a hard fight," an army officer who did not want to be named told Nigeria News.
"We lost several men but we are still working to establish their number. One thing we are sure about is that the base commander, a lieutenant colonel, was among those killed," he said.
He said the insurgents ransacked the base and carted away weapons and vehicles.
"The Islamists "took troops by surprise" while they were working to fix communications equipment that had been destroyed in a rainstorm," one of the sources told Naija News.
"The troops could not seek support from two nearby bases because of the faulty equipment," he said.
However, search and rescue operations are already ongoing, touring the affected area, and scouting for missing soldiers.