PDP Berates President Buhari Over Democracy Day Speech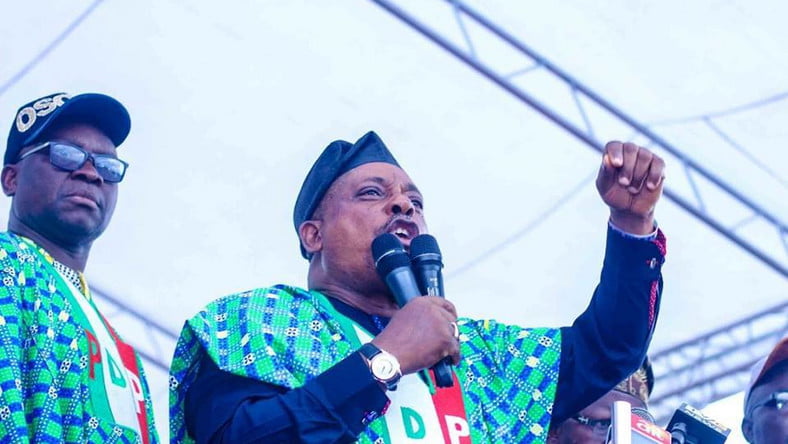 The Peoples Democratic Party (PDP) has accused the administration of President Muhammadu Buhari of subjecting Nigerians to the worst form of economic misery.
The main opposition party made this known in a statement released to newsmen on Wednesday by its National Publicity Secretary, Kola Ologbondiyan.
The PDP berated Buhari for his Democracy Day speech, stressing that the speech was full of false performance claims.
The statement reads in part: "It is sad that on a day like this, Mr President dwelt on false performance claims and had no soothing word for millions of compatriots that have been subjected to the worst form of economic misery, that they are now resorting to suicide and slavery mission abroad.
"How can this administration superintend over a democracy day celebration when it has questions of constitutional violations, electoral manipulations, media clampdown, victimization of opposition, the emasculation of free speech, brutalization, arbitrary arrests and illegal detention, as already detailed in various reports, including those by the United States Department of State.
"It is disheartening that the same electoral manipulation, violations and injustices for which the icon of June 12 Democracy Day, Chief MKO Abiola died, have brazenly taken centre stage under the APC misrule.
"Today (yesterday), just like on June 12, 1993, our citizens are despondent, particularly over the rigging of the February 23, 2019 presidential election as their quest for a people-oriented and inherently democratic leadership to move our nation forward was frustrated, consequent upon which our party and our presidential candidate, Atiku Abubakar, are seeking justice.
Source: Naija News