Nigerians React As Buhari Describes Abuja Residents As 'Necessary Evil'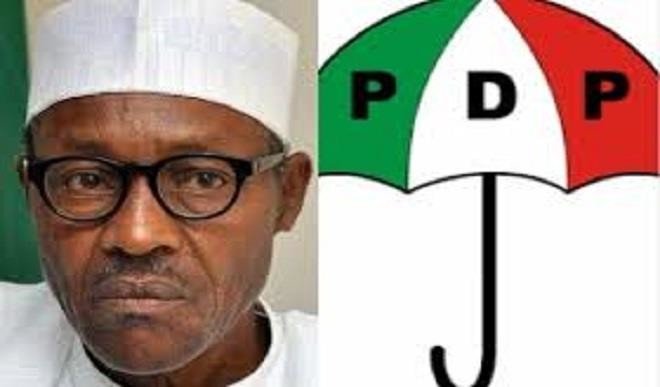 A storm of reactions by Nigerians has greeted the news that President Muhammadu Buhari described residents of the Federal Capital Territory (FCT), Abuja, as "necessary evil" for not voting him but rather the Peoples Democratic Party (PDP), Nigeria's main opposition party, in the last general election.
Naija News understands that the President made this statement when a delegation of FCT residents paid him Sallah homage at Aso Rock on Tuesday, June 4.
President Buhari said he was putting necessary measures in place to make Abuja secure for "myself and the vice-president".
The President also said he was pleased that Philip Aduda, senator representing FCT, was seated far from him at the event.
"I want to appreciate the number two man of the country because he knows what we are going through very quietly. I am very pleased that you came with this very powerful constituency," TheCable quoted President Buhari to have said.
"I appeal to you to remain exemplary so that those under you will know that the country is doing very well. If you break down and complain, the impact will reverberate all over and the government will not be popular and whatever efforts we are making will not be appreciated.
"I have just spoken to the senator on my left (Philip Aduda) and I told him that his constituency did not vote for me. So, I was very pleased that when they made the arrangement they put him very far away from me.
"I have all the results of all constituencies. I am not threatening FCT because to make FCT secure is to make myself secure and the vice-president. I think they know that they are necessary evil that was why they decided to vote for PDP."
Moments after the news broke, Nigerians took to the micro-blogging site, Twitter, to react to the statement.
Naija News captured some of the reactions below…
Today, Muhammadu @MBuhari called Nigerians who voted for @OfficialPDPNig a "necessary EVIL". I laugh in Aisha's voice at those who expected that the 97% versus 7% behaviour perished with the election.

RETWEET if you voted for PDP but are not EVIL #FreeLeahSharibu #RenosDarts pic.twitter.com/JZBq8xJ5jw

— Reno Omokri (@renoomokri) June 4, 2019
I carry all of una for mind. https://t.co/y13ChlegNZ

— Parosident (@TheMbuhari) June 4, 2019
Lol. Necessary evil. Man. We are in for it pic.twitter.com/t9p45GFHYT

— Oladayo (@oladayo01) June 4, 2019
FCT residents are a necessary evil. That's why they didnt vote for me.- Buhari

LMAO ?

— Comrade Deji Adeyanju (@adeyanjudeji) June 4, 2019
President Muhammadu Buhari has described residents of the Federal Capital Territory (FCT), as a necessary evil even though they did not vote for him and his Vice President, Yemi Osinbajo in 2019 general elections.

— Hamma (@HAHayatu) June 4, 2019
That Buhari described FCT residents as "necessary EVIL" for NOT voting for him, confirms the simmering rage and animus he harbors against SE and SS for voting far less for him. Why would anybody not want #SelfDetermination from a society ruled by such a man.

— aloy ejimakor (@AloyEjimakor) June 4, 2019
"I have all the results of all constituencies.I'm not threatening FCT because to make FCT secure is to make myself secure & the VP.I think they know that they are necessary evil that's why they decided to vote for PDP."

I voted against you @MBuhari & I will do it a million times https://t.co/zGs8XGoLOv

— . (@FakhuusHashim) June 5, 2019
"I am very pleased that Nigerians understand me that although I was a governor, minister of petroleum & one time head of state, people know I don't have a lot of money to give"
—@MBuhari (His speech today on Necessary Evil).

➖
After 4years, he is still playing the humble card.

— Young Otutu (@YoungOtutu) June 4, 2019
"FCT residents are a necessary evil. That's why they didnt vote for me." – @MBuhari

FCT residents, you hear? You guys are evil & need deliverance.

— The Male Arya Stark (@I_Am_Ilemona) June 4, 2019
PMB is calling us? Abuja Residents,

"Necessary Evil "

— Sam (@SamEba_) June 4, 2019
That was a clear indication he is living on a stolen mandate. If he termed FCT residents necessary evil, can anyone ask him what the Fulani herdsmen are?

— AbattaGodfather (@Oracle_GF) June 4, 2019
I hear Buhari said Abuja residents are "necessary evil" because they voted against him.

— Oluwatosin Fatoyinbo (@Tosinfat) June 4, 2019
Source: Naija News