Nigerians React As Appeal Court Sacks Regina Daniels' Ned Nwoko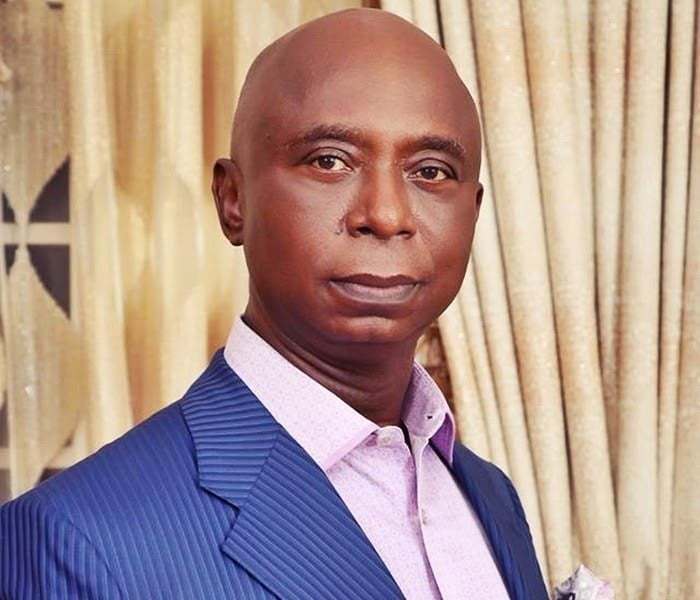 A storm of reactions by Nigerians has greeted the sacking of Regina Daniels' husband, Ned Nwoko, by a Court of Appeal sitting in Abuja, Nigeria's capital.
Naija News understands that the Abuja Division of the Court of Appeal nullified Nwoko's emergence as the senator representing Delta North Senatorial District.
In a decision on Thursday, May 30, the appellate said the case instituted at the Abuja Division of the Federal High Court which resulted in the recognition of Mr Nwoko as the winner of the election by the Independent National Electoral Commission (INEC), Nigeria's electoral umpire, was wrongly filed.
The Abuja Division of the Court of Appeal ruled that the matter ought to have been brought at the lower court before the expiration of 14 days from the time of the incidence that birthed the suit.
This online news platform understands that the Appeal Court ruled that the failure of the applicant at the lower court to file the case before the expiration of 14 days meant that the case had become statute barred and the lower court lacked jurisdiction to entertain the matter in the first place.
"As at the time the matter was instituted at the Federal High Court, the case was statute barred. We set aside the decision of the Federal High Court and strike out the case," the court ruled.
Naija News recalls that INEC withdrew Peter Nwaoboshi's certificate of return it issued to him following the FHC decision. Nwaoboshi is Nwoko's contender.
However, the court ruling today means Nwaoboshi will now be recognised as the senator-elect for the district.
The two Peoples Democratic Party (PDP) politicians, Nwoko and Nwaoboshi, contested for the ticket of the party in the primaries.
PDP, the main opposition party in Nigeria, later won the senatorial election in the district with Mr Nwaoboshi as its candidate.
But INEC INEC withdrew the certificate issued to Mr Nwaoboshi and presented same to Mr Nwoko after a ruling of the high court.
However, the ruling of the Appeal Court today means that the decision that would now be reversed.
Moments after the court judgment, Nigerians took to the micro-blogging site, Twitter to react to the judgment.
Court of Appeal sacks Ned Nwoko as PDP senator-elect – Premium Times Nigeria https://t.co/omC3F8IzFn He got distracted by his child bride…

— Mr. Aye Dee (@MrAyeDee) May 30, 2019
It's okay, Court of Appeal sacks Ned Nwoko, Regina Daniels husband as PDP senator-elect

And so, what is the big deal here?? Why Jubilating?? pic.twitter.com/Mzppl79aRt

— Ms Ene'eze 4 Atiku (@RukkyAbdullahi) May 30, 2019
I said it .. Black market injunction doesn't last https://t.co/fT0jxkVryp

— Chiemeka Akwarandu (@Mec_DON206) May 30, 2019
Appeal Court sacks Reginal Daniels hubby, Ned Nwoko, as PDP senator-elect.
Yoruba will say Ese Iyawo e o da > the wife leg no good

— Future President 💨 (@Justice_IEA) May 30, 2019
Bad news for Regina Daniel

👇👇👇

BREAKING: Court of Appeal sacks Ned Nwoko as PDP senator-elect https://t.co/TRqWQzwS4P https://t.co/TRqWQzwS4P

— Chukwuemerie Uduchukwu 🇳🇬 (@EmerieUduchukwu) May 30, 2019
Court Of Appeal, Abuja Division Sacks Regina Daniels Husband, Ned Nwoko As PDP Senator-Elect
BUT THIS NIGERIA SEFhttps://t.co/n84P0uc43K https://t.co/n84P0uc43K

— iamcephas (@iamcephas1) May 30, 2019
Breaking!! Court of Appeal sacks Ned Nwoko as PDP Senator Elect. He still has room to appeal to the Supreme Court this being a pre election matter apparently. https://t.co/NKsSF8BWpU

— Akanimo Ukpe (@akviktor) May 30, 2019
https://twitter.com/ItsAdeyemiOba/status/1134088742837399553
The judge and entire PDP are jealous of his young wife. Oga go and enjoy honeymoon with fresh blood Regina Daniels. "Ned Nwoko" #May30 #May30th Biafran #freenairamarley

— Joseph's Court (@Simplyolaedache) May 30, 2019