#TheInauguration: Read What Nigerians Are Saying Ahead Inauguration Today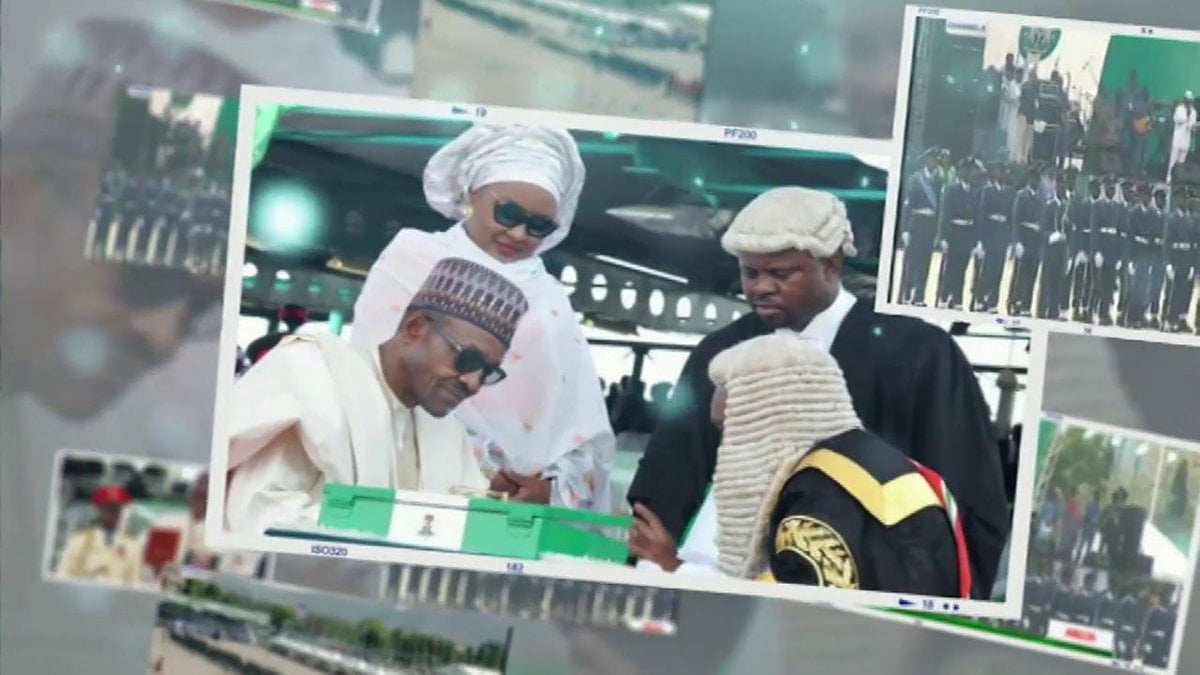 A storm of reactions by Nigerians has greeted the forthcoming inauguration ceremony for elected political office holders in Nigeria.
Naija News reports that a list of twenty-nine (29) governors-elect will be sworn into office today, Wednesday, May 29.
This online news platform understands that the development will be coming months after the Independent National Electoral Commission (INEC) successfully conducted the 2019 general elections.
Naija News recalls that the state governorship elections were conducted in 29 states of the federation on March 9, 2019. This came a month after the Presidential election.
Like the governors, President Muhammadu Buhari would also be inaugurated for a second term in office today. The President's second term is tagged "Next Level."
With just a few hours to the inauguration, Nigerians have taken to the micro-blogging site, Twitter to advise the forthcoming government.
Naija News captured some of the reactions below…
#TheInauguration your second term should b at the speed of light; the parasites you don't kill instantly; dwindles the activities of the host and the host community in the long run! Act fast and act right; free Nigeria from the hegemony of brigands and marauders!

— Olusola Jacobs (@oooohjay) May 29, 2019
#TheInauguration the @OfficialAPCNg shd show us there scorecards for the last 4 years running.. its no more @OfficialPDPNig did so so and so..lets see what you had done and we would know where we are heading to. lobatan. @channelstv @sunrisedailynow @TVCconnect

— Awakened Nigerian Youth (ANY) (@Emmanuelpopson) May 29, 2019
i remembered that famous quote by @MBuhari 4 years ago. " i am for everybody, i am not for nobody" that brought us to this quagmire. i hope this #TheInauguration wont be same rhetoric but lack action and delay. its no more @OfficialPDPNig did this and that.

— Awakened Nigerian Youth (ANY) (@Emmanuelpopson) May 29, 2019
Congratulations sir, with God by your side you and the entire people of ogun state will succeed.

Igbega ipinle ogun ajose gbogbo wa ni

God bless ogun state

God bless Nigeria #TheInauguration #NextLevel @ogun_state

— Dedrey Ogunnoiki (@dedrey_nrs) May 28, 2019
#Theinauguration all i expect from this government to do in the next four years,is make policies that would be beneficial to the common man,everyone struggles on how to survive,let the common man have a reason to say proudly this is my country

— Miracle Obt (@3lcarim) May 29, 2019
Today's Inaugurations across Nigeria is not just about new governors or second term affairs, it's about the survival of democracy in two decades. #TheInauguration

— Semiu Okanlawon (@sokanlawon) May 29, 2019
I am not a fan of any politician or political party. I am a patriotic Nigerian. I have been lied to many times . While you shout #NextLevel remember that we really need to build this country not just talks.
Thread #TheInauguration pic.twitter.com/dFXuTKIV3e

— King Bona (@MrBona_NBA) May 29, 2019
He should resign and hand over to a competent and patriotic Nigerian who will not use our money for medical tourism abroad while his son rides on premium brand of okada even before youth service. Rada rada!! #TheInauguration #InaugurationTrends #InaugurationTrend

— Dj bANTY (@Deejay_bANTY) May 28, 2019
Please, I beseech our Political leaders that are been inaugurated today do the right thing. As they will lay their hands on the Bible or Quran, let them remember their promise and create opportunities for the youth. Yahoo Yahoo is not a job.#TheInauguration #DemocracyDay #May29

— Tolu Fadairo (@tolu_fadairo) May 29, 2019
Please, I beseech our Political leaders that are been inaugurated today do the right thing. As they will lay their hands on the Bible or Quran, let them remember their promise and create opportunities for the youth. Yahoo Yahoo is not a job.#TheInauguration #DemocracyDay #May29

— Tolu Fadairo (@tolu_fadairo) May 29, 2019
Exactly two decades of return to democratic rule. Congrats Nigerians #TheInauguration

— Semiu Okanlawon (@sokanlawon) May 29, 2019
I will be watching the Presidential Inauguration today from home. If you are less busy & feel like need a buddy to talk about PMB's First tenure while watching him get inaugurated hit me via DM. My wife is not home, so there is no any plan for Iftar. #TheInauguration #Nigeria

— Abu-Jazmeen (@Noorer) May 29, 2019
Romans 13 vs 1….let us be subject to higher authorities #TheInauguration

— ??An excellent NIGERIA??️??️?️)#COMRADE# (@DdonISIBOR) May 29, 2019
To God be the GLORY,
GREAT THINGS HE HAS DONE

Good morning PROGRESSIVES
GOD Bless all of US.

AtiQUITE & ATIKULOOTERS Association can go to Dubai or Wadata house for their own greetings because
It's BUHARI/OSINBAJO'S 2.0#TheInauguration #BuhariIsComing

GOD BLESS NIGERIA. pic.twitter.com/V9ugfYIgIg

— CBN Gov Akinsola Ak?? (@cbngov_akin1) May 29, 2019
Who is excited about tomorrow? #Theinauguration pic.twitter.com/C70wdJwvmT

— King Bona (@MrBona_NBA) May 28, 2019