Nigeria vs IAAF: Nigerians Roast Solomon Dalung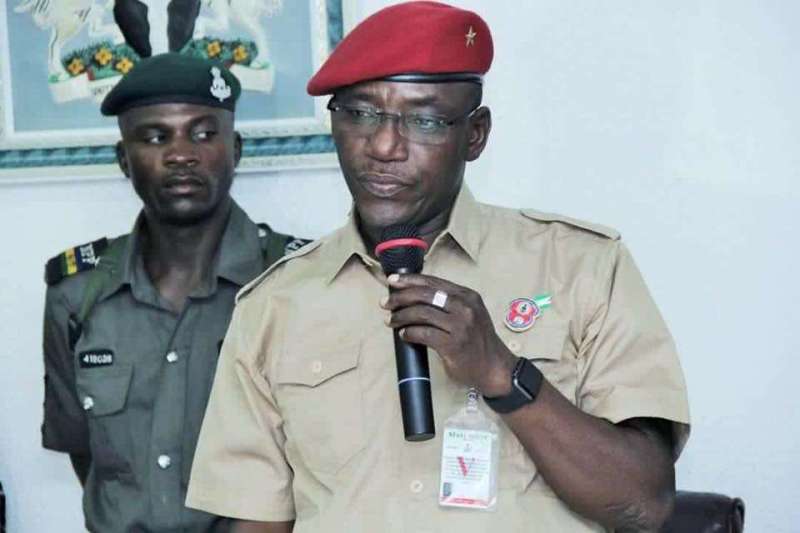 Nigerians have berated Sports Minister, Solomon Dalung, for questioning the International Association of Athletics Federations (IAAF) over 'missing' $130,000.
Naija News recalls that the IAAF said Nigeria was overpaid by $130,000 in 2017, a sum which the body asked Nigeria to pay back within days or be sanctioned,
However, Nigeria's officials have rejected all efforts to get the money back, with some trading blames and refusing to speak on the matter.
IAAF, in a letter sent to the president of the Athletics Federation of Nigeria (AFN), Ibrahim Gusau, and signed by the IAAF Senior Manager, Governance, Jee Isram, said the AFN was contacted immediately the anomaly was noticed on March 18, 2017, to refund the sum of $130,000 that was wrongly credited.
"Failure to receive the funds back within that period, we will have no alternative than to apply appropriate sanctions against your Federation," the letter read.
Speaking on the development, at the 2019 Okpekpe Road Race held on Saturday in Edo State, southern Nigeria, Dalung questioned the claims made by IAAF, claiming that Nigeria did nothing wrong.
The minister accused the Association of 'blackmail' after the body gave Nigeria an ultimatum to refund the money it was paid in error.
His words: "I think Nigeria has been unfairly treated because the issue has been painted and promoted as if there was any wrongdoing on the part of Nigeria," Mr Dalung said.
"Certainly not, grants were released to Nigeria on the 17th of May 2017. IAAF on the 19th confirmed the transaction; those from IAAF after two months turned round and cried foul that it was a mistake,"  he said.
When asked what Nigeria will do at least to save it from possible ban as threatened by the IAAF, the sports minister said: "Ban us for what? What has Nigeria done? What is the crime? Did we steal money from them? Did we ask them to transfer money to us?
"They transferred money to us, they confirmed the transaction to us, then after two months, they woke up from slumber.
"Is IAAF telling us they are as much disorganised as that? Where Nigeria is wrong, Nigeria will be own up but you cannot wake up and just realise that they have something to hold on to. We are not even convinced that there is any mistake, the money was sent for the golden relays and it was done. Are they saying there were no golden relays?
"I think those promoting this are trying to cry blue murder; I think they are just enemies of this country and we should ask questions," Dalung concluded.
Apparently displeased with the comments made by the minister, Nigerians took to the micro-blogging site, Twitter to berate Dalung.
Naija News captured some of the reactions below…
IAAF sent $130,000 to Nigeria in error. For over a year they've been asking for the money to be returned.

We go over to the Nigeria's sports minister Solomon Dalung for an update👇. Ain't this a scam. What is holding him t return the money? pic.twitter.com/FaAQLll3zo

— KING BONA (@RealKingBona) May 26, 2019
https://twitter.com/Poltergeyst_/status/1132610070116802562
https://twitter.com/effalixumab/status/1132570442814971904
Growing up in Jos, I have known Solomon Dalung for over a decade, I have never took him serious, because he is never a serious person, he was disengaged as a lecturer in Unijos due to his unserious attitude towards work,

Till today I'm still yet to fathom what Buhari saw in him.

— Abdul Basit (@AA_Basitt) May 26, 2019
https://twitter.com/solomonapenja/status/1132527456391503872
It's quite funny people are not even mentioning the AFN president's name Ibrahim Gusau and going after sports minister, Solomon Dalung straight. But what do I know, we just want someone to pay IAAF back their excess payment. Expecting 15k, saw 150k and kept quite.Fraud everywhere

— Emoxy_ethanoluwa (@Emoxy_ethanoluw) May 26, 2019
https://twitter.com/ajommuo/status/1132388770051952643
Nigeria has successfully ruined one of the few remaining chances we have at redeeming our image – sports. All because Mr. Integrity has someone like Solomon Dalung in charge.

What a time to be alive.

— USBC (@Chimamkpam_) May 26, 2019
IAAF is asking Solomon Dalung and his team to return the $130,000 that was mistakenly credited to our Athletics Federation by IAAF.

Money they've probably used to "Eat Suya and drink henessy" in Abuja. 😁😁

Cooperate Yahoo boys.

— Edovision2023 (@edovision2020) May 26, 2019
Isn't it just funny that some people still take the Buhari administration seriously with the likes of Solomon Dalung & cohorts still in priority executive office

How the International world must view us as?? 🤦🏽‍♂️🤦🏽‍♂️ pic.twitter.com/vKEPIHDS1D

— Palooza🌿☘️🍃 (@tofa_palooza) May 26, 2019
Wait o. Solomon Dalung suppose to be the sports minister, not the AFN president, why is he the one vexing? He should just command the AFN to return the IAAF money and save us the embarrassement. But what did i know?

— 𝕻𝖆𝖗𝖙𝖊𝒚🔴⚪ (@LukAS_Olajide) May 26, 2019
https://twitter.com/ajommuo/status/1132612824633679873
Me waiting for EFCC to do a thread on Solomon Dalung. pic.twitter.com/2Juh950b5d

— Sekoni 🇳🇬 (@SekoniTweets) May 26, 2019
I lived in the time of @MBuhari.

I lived in the time of Solomon Dalung.

And I also lived in the time of Yahaya Bello.

What a life!😢😢😢

— 🇳🇬Abu Mariam🧱 (@AdesinaOyedele) May 26, 2019
Dear @iaaforg ,
Kindly report the usd130,000 transfer issue with the Nigerian sports minister Solomon dalung to the @FBI so that they will put him on the watch list and place him on travel ban.
Our issue in Nigeria is the dormant,docile and incompetent president.
Thanks.

— BaronKings ♟ (@Ezbaronkings) May 26, 2019
Solomon Dalung, breaker of chains and father of unrequested fund. A leader per excellence. The chief implementer of 'if anybody fall mugu' but not a yahoo guy.
Do not give in pleasure Sir. Keep the money na your sweat. Your integrity, like that of Buhari, is unquestionable. 😂 pic.twitter.com/5Iqde7A8P2

— Nwa Ani (@Aniogb) May 26, 2019