Nigerians React As Justice Bulkachuwa Finally Recuses Self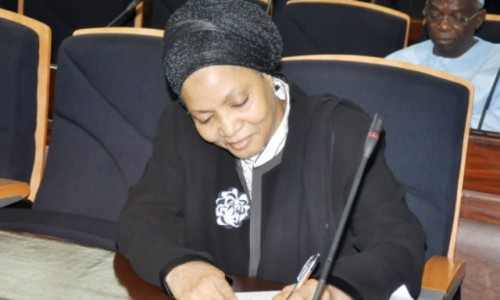 The President of the Appeal Court of Nigeria, Justice Zainab Bulkachuwa, on Wednesday, recused herself from the sitting or heading the Presidential Election Petition Tribunal.
This is following an application filed by the Peoples Democratic Party (PDP) and its presidential candidate, Atiku Abubakar, asking the judge to leave the tribunal over are alleged bias.
Justice Bulkachuwa has decided to recuse herself despite the Election Tribunal striking out the application of the PDP and Atiku.
Nigerians have however taken to micro-blogging site, Twitter, to express their opinions on today's event.
See reactions below: 
Atiku vs Buhari: Justice Bulkachuwa have stepped down from presiding over the presidential election petition tribunal.

— Daniel Semeniworima (Dean of Eagles Faculty) (@DaniSeme2) May 22, 2019
BREAKING:
Appeal Court President, Justice Bulkachuwa recuses herself from Presidential Election Tribunal Panel over her relationship with APC chieftains.

Her husband is a Senator-Elect under APC.

— Lere Olayinka – Aresa 1 (@OlayinkaLere) May 22, 2019
The court of appeal unanimously dismissed the application by Atiku as unmeritorious but Justice Bulkachuwa personally decided to recuse herself since the law has been properly stated and no other female may suffer such unwarranted allegations in the future!

— Dr. Ajibola Basiru (@DrSRJ_) May 22, 2019
I don't no whether atiku is coming ooo, but justice Bulkachuwa is a great disgrace to my profession. To be reminded that she needs to recuse herself is in itself a big disgrace

— DEMAGOGUE .?senior advocat? (@von_Bismack) May 22, 2019
Justice Bulkachuwa refusing or still delaying to recuse herself from the PEPT only points to one thing – she's highly interested in the case and Buhari has mandated her to rig justice like he rigged the election. Your husband and son are card carrying members of the APC ffs ma'am

— #RIPHauwa (@iamJimmyGentle) May 22, 2019
I wonder where @OfficialAPCNg Lawyer came from. How on earth will they talk about gender in a sensitive case like this? Justice Bulkachuwa's should step aside. You can't be a Judge in your own case.

— True Patriots™???? (@edeteemmanuel) May 22, 2019
Are u idiots telling us that it wasn't d PDP who appointed most of d judges since 1999? So justice Bulkachuwa should recuse herself frm her job cos of this reason? Has Justice Wike & Mary Odili ever recused themselves from any case involving PDP at d supreme court? Turn by turn.

— Demi Khay?????? (@Lboogie_K) May 22, 2019
I give it to the @OfficialAPCNg shaa ! They are smart alecs walahi! See how they conceded defeat and got justice bulkachuwa to recuse herself and made it look like they don't control the judiciary. Watch the new onslaught in the coming days.

— Nimrod (@GhenhisKhan) May 22, 2019
I've expressed it on these streets, nothing good will come out of the PEPT or the Supreme Court. The judiciary is gone! https://t.co/NMR1xhFRU2

— Great Oracle (@AbdulMahmud01) May 22, 2019
The PEPT judges actually said that the application lacked merit to give Justice Bulkachuwa a soft landing!
The Appeal Court has gone to the dogs.

— IKECHUKWU (@iykimo) May 22, 2019
This Justice Bulkachuwa issue is a dicey one. I am wondering what will happen if Atiku's petition gets to the Supreme Court and Justice Mary Odili is asked to disqualify herself because she is wife to a former PDP Gov. or Rhodes-Vivours whose nephew was a PDP senatorial aspirant

— Oluwadharmie (@oluwalonidharmi) May 22, 2019