Nigerians React To Keyamo's WAEC Comment On Presidency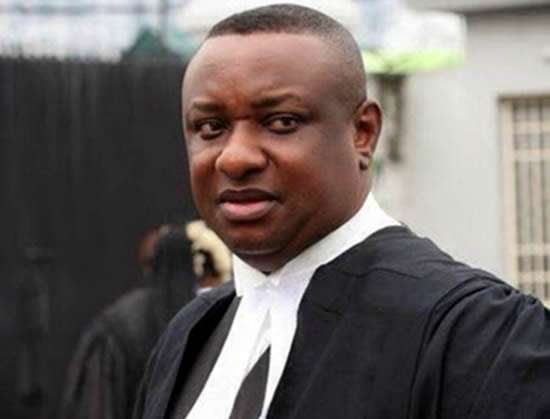 A storm of reactions by Nigerians has greeted comments made by Festus Keyamo (SAN), that one does not necessarily need a WAEC certificate to become President of Nigeria.
Naija News had reported earlier that Keyamo, who was the spokesperson of the 2019 Buhari Campaign Organization (BCM),  made this comment on Sunday night when he appeared on Channels Television.
While answering questions on the eligibility of President Muhammadu Buhari to contest the presidential election, Keyamo said if you have occupied the public office for a reasonable length of time, you do not need a WAEC certificate to become president of Nigeria.
His words: "There are other levels of qualifications to run for the office of President. In fact, if you have occupied the public office for a reasonable length of time, by the provisions of the constitution, you do not even need a WAEC certificate to become President of Nigeria.
"It becomes extremely foolish for anybody who is not statutorily empowered to issue WAEC certificates to come and challenge the body that has the statutory power to issue certificates," the Senior Advocate of Nigeria had said.
Moments after Keyamo made the statement, Nigerians took to the micro-blogging site, Twitter, to air their opinions on the matter.
Naija News captured some of the reactions below…
I doubt if any reasonable person will give his legals briefs to festus keyamo after this election season, because the guy has really shown how shallow he is , even the APC have taken him as jester

— Hamma (@HAHayatu) April 14, 2019
.@OfficialAPCNg took Senator Adeleke to Court, alleging that he had no certificate, now a shameless Festus (Stephanie Otobo) @FKeyamo is arguing that @MBuhari DOES NOT need a WAEC certificate to be President. It's like saying you need a certificate to be gateman but not to be MD!

— Reno Omokri (@renoomokri) April 15, 2019
Chai…So Buhari doesn't have WAEC true true?
No wonder why his Government has turned many Nigerian Professors into Okpos. https://t.co/tAKxVtvUw2

— Mr Stanley Nwabia (@MrStanleyNwabia) April 15, 2019
We told you our President doesn't have WAEC, you people said we were being mischievous, well Festus Keyamo don confirm am now. https://t.co/ZoaYgG7xxs

— Oluyemi Fasipe?? (@YemieFASH) April 15, 2019
When Buhari hires 13 SANS to defend his WAEC certificate, I knew he didn't sit for the exam.

— Somto Onuchukwu (@chosensomto) April 15, 2019
If Nigeria was your company will you employ pmb without a waec cert as your MD?

— Omini Lawrence (@lawrence_omini) April 15, 2019
Now that WAEC isn't even needed to contest for any post in my country.

it's safe to say the ones in schools are not the leaders of tomorrow.

— Sir Bobo (@mrboboskie) April 15, 2019
From Keyamo's interview, this country doesn't encourage or value education.

Primary School certificate is enough to make you a President in Nigeria.

WAEC is not even a necessity! pic.twitter.com/qHVHGd4FBj

— Kemi Ariyo (@d_problemsolver) April 15, 2019
Many people who looked up to you feel so disappointed. You are proud to support a man who cannot even afford a WAEC certificate to contest for an election. I am sure you won't employ anyone with only WAEC certificate at your chambers.

— Iho Terence Terna ? (@IhoTerence) April 15, 2019
How do you occupy the public office in the first place, if you don't have a WAEC cert.

we should start from the basic qualification for entry level jobs in Nigeria, from there we can talk about that of becoming a President https://t.co/0lhGfwG44M

— MO ABDUL (@moabdul55) April 15, 2019
Section 131 spells this out completely. The president understands the importance that's why he has a WAEC certificate with a photograph?. Mine isn't ?

— steviedearie (@steviedearie1) April 15, 2019
I really like this Festus of a guy; he tells the truth when you least expected it? He has just confessed ironically that PMB doesn't have a WAEC certificate ??? But I think he is dumb to have sold out his boss so cheaply for something he has defended for 5yrs with many SANs?

— kotchi (@kotchiforlive) April 14, 2019
That's where the problem of this country starts from (#ourconstitution) how will an individual occupy a public office without a WAEC in the first place, that means the person is not even educated. So that's why the political class doesn't have any plan to develop our education

— Sen. Adeolu (@AdeoluAdisa) April 14, 2019
You do not need WAEC to become President in Nigeria – Festus Keyamo

Why is Keyamo like this?

— Sam Eba ® (@SamEba_) April 15, 2019
You don't need WAEC to be president of Nigeria according to Festus Keyamo

But you need to have a degree & you need to complete your NYSC to be a minister in Nigeria

Absolute nonsense & madness!!

— Uche (@ubig1) April 15, 2019
Festus Keyamo that worked under the great Gani Fawehinmi and should have learnt a thing or two about honesty and the bond in the words of his mouth is saying you don't need waec to become President?

— DELE 'DELZ' FALODUN© (@delaw) April 15, 2019
From all indications and the recent statement coming from Festus Keyamo about President not having WAEC before he can contest, I now want to believe that Buhari didn't have a WAEC result.

— sugarCube ? (@official_gbeng) April 15, 2019
I did everything so that Festus Keyamo will not trend,yet he is trending.
So much shiit pic.twitter.com/466cOHHTEn

— Gabriel Desire? (@d_sheffizzle) April 15, 2019
Read More News. Download Naija News App. Send us enquiries and press releases.