IPOB Reacts As APC Claims Atiku Is From Cameroon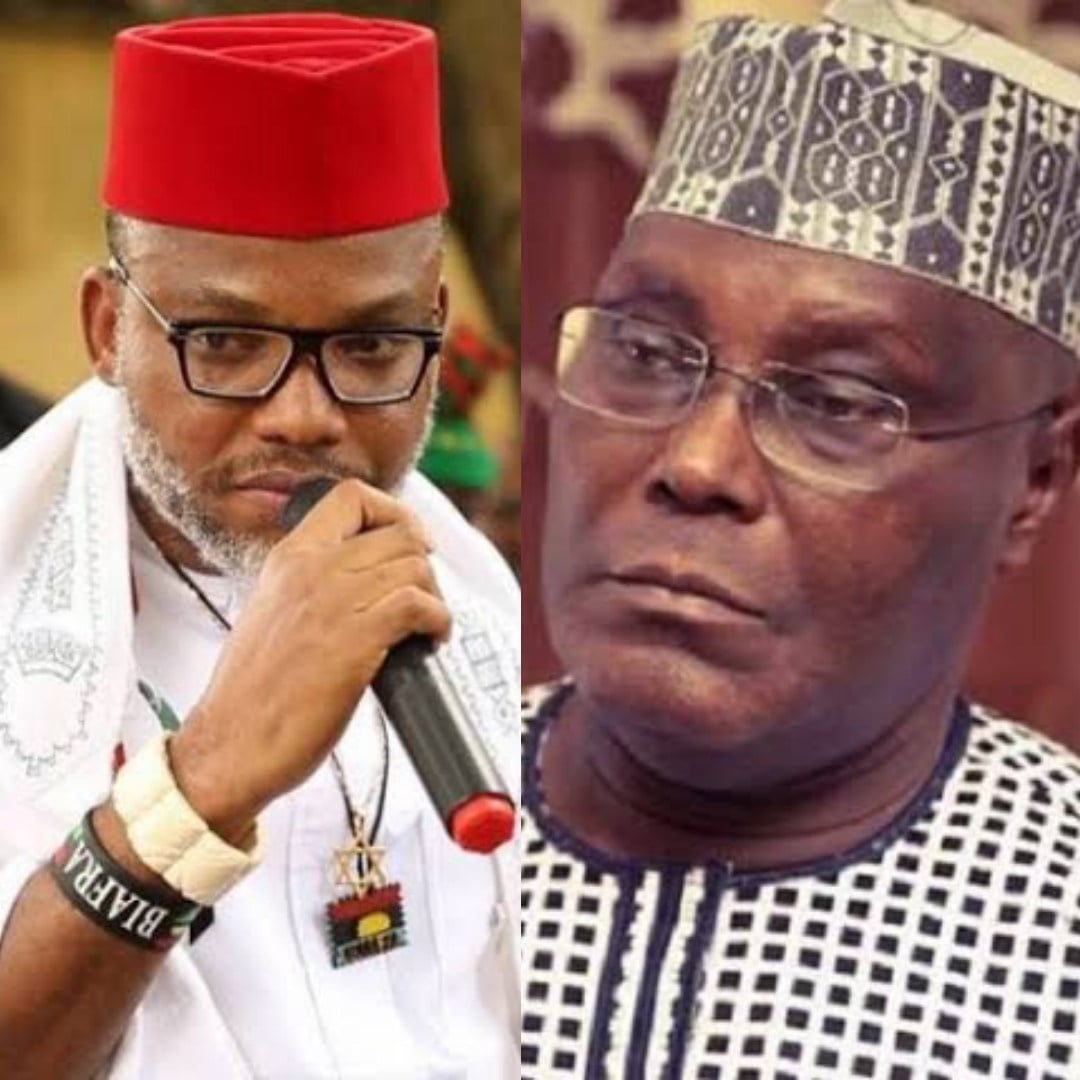 The proscribed Indigenous People of Biafra (IPOB), says the claim by the All Progressives Congress (APC), Nigeria's ruling party, that Atiku Abubakar is not a Nigerian, confirms remarks made by its leader, Nnamdi Kanu as truth.
Naija News recalls that Kanu had said during a live broadcast via Radio Biafra in London, United Kingdom on Saturday, February 2 that Abubakar is from Cameroon.
"Do you know that Atiku Abubakar is from Cameroon? His area of Adamawa was in Cameroon," the IPOB leader had said in February.
Echoing the same claim, the ruling APC filed a motion at the Presidential Election Petition Tribunal in Abuja, Nigeria's capital, April 12.
In the petition filed by APC's lead counsel, Lateef Fagbemi, the party faulted the candidacy of Abubakar, who was the Peoples Democratic Party (PDP) candidate in the election, claiming that the former Vice President is a Cameroonian and not a Nigerian citizen.
APC, hence maintained that the Presidential candidate petition against President Muhammadu Buhari, its own candidate, should be dismissed for lacking in merit.
Reacting to the claim in a statement issued by its Publicity Secretary, Comrade Emma Powerful, IPOB said political events in the near future in Nigeria, will also confirm Kanu's claim that President Muhammadu Buhari is dead and is currently being replaced by an impostor, Jubril Al-Sudani from Sudan.
The statement reads, "With the trend of ongoing events in Nigeria, it is now clear to all and sundry that any word uttered by our leader on Radio Biafra is the unquestionable truth backed up by irrefutable facts. Atiku's nationality debate attests to this.
"Those who over the years derived joy in propagating the lies that Radio Biafra is about propaganda and hate speech are the ones today relying on it to get factual information on constitutional law in Nigeria. Senior Advocates of Nigeria now depend on Nnamdi Kanu to tutor them on constitutional law and the dysfunctional legal system of Nigeria.
"Those that referred to IPOB as miscreants are now the same people now quoting and referencing the speeches of our supreme leader Mazi Nnamdi Kanu in their legal depositions.
"In the same vein and in due course, Nigerians will come to the inescapable realisation that Maj. Gen. Muhammadu Buhari is dead and the impostor in Aso Rock is neither of Nigerian citizenship as Atiku nor birth, which both Jubril and Atiku are not.
"The Fulani Aso Rock cabal and their friends in mainstream media in Nigeria can seek to dismiss this fact all they like but in the end, the truth must surely prevail.
"Pretending that things are normal in Nigeria with the current level of injustice, poverty, pain, insecurity, hunger and oppression is a recipe for disaster.
"To drive home this message, our leader Mazi Nnamdi Kanu will deliver a special address on Radio Biafra tonight April 14, 2019, at 7 PM Biafra Time (7 PM UK) for yet another expose on the fraud called Nigeria and further clarification on the thorny issue of Atiku's nationality," the statement added.
Download NAIJA NEWS app: