JAMB 2019: Computer Fails To Identify 10 Candidates In Anambra State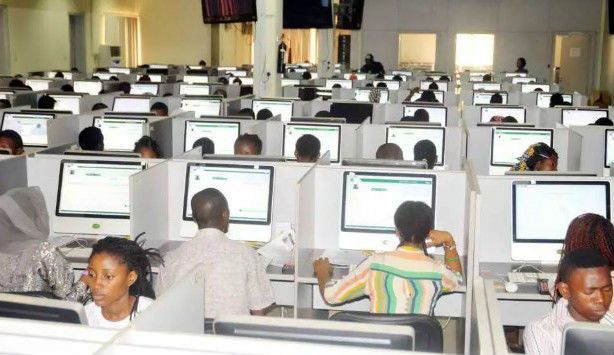 Names Of Candidates Rejected By The Computer At JAMB Centre
In Anambra states, 10 candidates have been unable to write Unified Tertiary Matriculation Examination as the computer failed to confirm their thumbprint.
This is as Naija News reports that students were unable to take their exams due to alleged system issues at Uyo, Akwa Ibom State.
News Men who monitored the UTME in Awka today, reports that the affected candidates for the examination were asked to leave the wall because the computers could not confirm them as candidates.
Some of the candidates who spoke to  the News Agency of Nigeria expressed shock that the computers rejected them after printing out their details.
Miss Chiamaka Okoro said she registered for the UTME with a centre at Basilica of the Holy Trinity centre at Onitsha but was asked to leave the hall when the computer could not confirm her candidacy for the exam.
Okoro said that she had lodged her complaint at the Joint Admission and Matriculation Board office in Awka and was directed by its official at the centre.
Mr Paschal Okoro, the father of the candidate, described the experience as `embarrassing' saying that a letter had been submitted to the Abuja office through Awka JAMB office.
He called on the examination body to work on the correction process as soon as possible to enable the students to participate in the ongoing examination.
Miss Francisca Onuzulike said that her details was not also confirmed at her exam centre adding that she had already lodged her complaints to JAMB.
Onuzulike however, said that there was no specific assurance from JAMB officers but her complaint was documented in a paper given to them.
Miss Amarachi Orjiaka said that her thumbprint was not popping up during her verification at her Army Day centre in Onitsha which led to her not taking part in the April 11 examination scheduled for 7 am.
Orjiaka said that the issue was very demoralising and appealed to the examination body to take quick action and create a date for her own examination.
Meanwhile, Miss Ngozi Nwude a senior officer at Integral Development Consults IDK, Computer Based Test approved centre in Awka metropolis said that the UTME was moving on well in the centre
Nwude said that some of their candidates had thumbprint confirmation problem and that their records had been taken and incident form is given to the affected candidates to fill for actions to be taken by the appropriate body.
She said outside the thumbprint confirmation that there was no other problem encountered so far while the examination progressed.
NAN reports that the JAMB officers  has so far, refused to speak to the news man who was in the office to ascertain the situation of the examinations in the state.
The agency also reports that 33 approved CBT centres exist in Anambra and that UTME was ongoing in the state.