Niger State Govt Intervenes As Fire Burns Down Over 50 Shops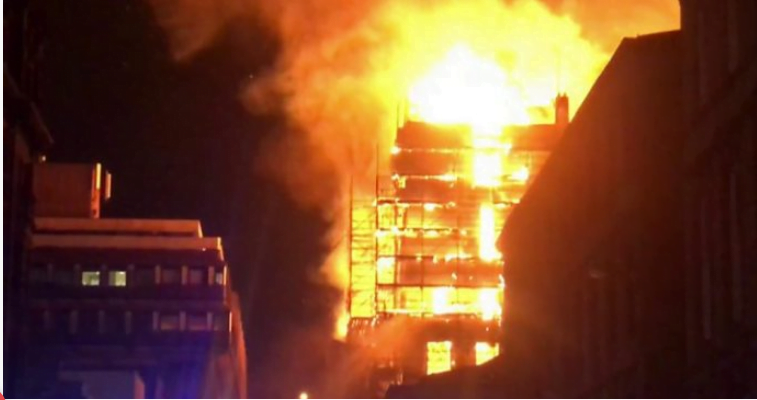 Government Promises To Help Victims Of Market Fire
54 permanent locked-up shops, 15 attached shops, and merchandise worth over N100 million have been engulfed by late night fire in the Monday Market in New Bussa in Niger state.
The fire incident occurred on Sunday night and the cause of the fire is yet unknown.
Owners of the locked up shops said they could not rescue the goods in their shops as most of them were not aware of the fire until on Monday morning.
The Director General of the Niger State Emergency Management Agency, (NSEMA) Alhaji Ahmed Ibrahim Inga confirmed that the goods lost will be worth over N100 million saying all the goods in the shops were burnt to ashes as none was rescued.
In the same vein, the State Governor, Alhaji Abubakar Sani-Bello who visited the scene of the incident on Tuesday, said time has come for the government to provide a functional fire fighting station in each of the 25 local government areas of the state.
He told Naija News in a statement by Jibrin Baba Ndace, his Chief Press Secretary that fire outbreaks in markets across the state are gradually becoming a reoccurring incident, hence the need to build fire stations in markets and Local Government headquarters.
"This is not the first time we are experiencing fire outbreak in markets across the state. Now it has happened in New Bussa but the most important thing is that no life was lost.
"What we can do is to ensure that we have fire service stations in all the Local Government headquarters and we have built seven stations already. So we also have to ensure we set up one here as soon as possible so that when there is fire outbreak we can contain it before it cause more damages."
The Governor assured the victims of government support to ameliorate their hardship, "the government will ensure it provides support to the victims to reduce their hardship".
He then called on the State Emergency Management Agency to do a thorough assessment to identify victims and look into how they would be compensated.