Nigerians React As Customs Official Shoots Man Dead Over 'N5,000 Bribe'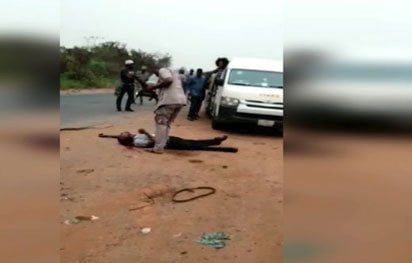 A storm of mixed reactions has greeted viral videos were officials of the Nigeria Customs Service (NCS) were accused of killing an unarmed civilian.
Naija News had reported earlier that the ugly incident took place at the Shagamu interchange along Lagos-Ibadan expressway on Sunday.
In one of the videos sighted by Naija News, several commuters were seen arguing with customs officials, while commuters from other vehicles watched on.
A passenger was heard warning an official not to touch his phone, while some others were arguing with another official.
While the continued, a voice was heard saying, "Shoot him" and a gun went off immediately after.
Some people at the scene fled after heard the sound of the gunshot while others repeatedly shouted that the customs officials have killed someone.
In the video, one of the Customs officials, who lifted the man's hand and realised that it fell to the ground, tried to get back into the official van of the customs but the apparently furious at the scene of the incident prevented the official and his colleagues from leaving the scene.
A lady in the video was heard saying in Pidgin English: "Customs don kill person, make una help them, una no dey go today."
"Customs has killed someone because of N5,000. We are coming from abroad," she added.
The moment after the videos went viral, Nigerians took to the micro-blogging site, Twitter to berate the Customs officials over the ugly act.
Naija News captured some of the reactions below…
Been calling the Custom PRO for over 30minutes without a response. The current trajectory is not sustainable and this is obviously a leadership problem, where the President is not even aware there is a customs service. Every gun wielding drunk out there see themselves as god.

— SEGA L'éveilleur®? (@segalink) February 17, 2019
I've watched the video of Citizen X who was killed by a Customs officer at the Sagamu/Ijebu-Ode Interchange & also read the yeye statement of the Customs Service. In spite of the video, it claims killing was as a result of accidental discharge

— Great Oracle (@AbdulMahmud01) February 17, 2019
There's a video!!! There's a frigging video!!! There was no struggle for the customs officer's fire arm. He stepped away, cocked his gun & shot!!!

Nigerian authorities need to stop lying!!!

He's a good citizen who always comes to fetch water & you lie about his death?

Tueh!!! pic.twitter.com/cpQGns85VI

— Igala_king (@I_Am_Ilemona) February 17, 2019
I watched a video of a man shot dead by a customs officer in total horror.

What is more shocking is the customs service response. They claim the man who was shot was a friend of the customs officer and not one of the passengers.

How does this even address the issue?

— Atiku Abubakar (@SKSolaKuti) February 17, 2019
In the US …I haven't seen a custom officer outside the airport or customs office before. In Nigeria…they are just roaming everywhere with automatic weapons like lunatics. ?

— Ferdinand. (@Poltergeyst_) February 17, 2019
That press release by the customs over the shooting is very disrespectful

We heard that officer cock his rifle.

Man i am just tired

A life wasted like that

— Osikhena Dirisu (@Osi_Suave) February 17, 2019
Fraudulent chief extortionists, Nigerian customs, issued a statement on the guy that was killed by a customs officer. They are claiming "accidental discharge", it is a lie, this is murder, no one tried to disarm d officer before shooting the boy, He corked & fired under 3 seconds pic.twitter.com/5XjhzAMIPa

— Kindly-Follow-Back (@Naijadailyfeed) February 17, 2019
A customs officer cocks his gun & shoots an innocent citizen dead. Instead of being remorseful & stating that the officer in question has been suspended pending further investigations, customs authorities are telling us it's accidental discharge. Accidental discharge kee u there.

— FAVOUR ONYEOZIRI (@LifeOfRouvafe) February 17, 2019
After killing an innocent citizen in broad daylight, the Nigerian Customs Service decided to insult the collective psyche of Nigerians that watched the video of the shooting of an unarmed citizen.

Spitting on the dead.

VOTE THEM OUT # pic.twitter.com/k7atVURAdC

— IKECHUKWU (@iykimo) February 17, 2019
How do you cock your gun and end the life of an innocent citizen in broad daylight just like that? No fear, no conscience, no self-restraint. That's somebody's child. Somebody's joy and happiness. Because you are a Customs Officer. May God have mercy on you and your generation!

— Ohimai Godwin Amaize (@MrFixNigeria) February 17, 2019
An official of the Nigerian Customs has just shot dead a man over 5,000 naira.
Yes, you read it right.
Shot dead.

First it was Army.
Then SARS.
Then Policemen.
And now Customs officials.

Why do the people who are mandated to protect Nigerian citizens only kill Nigerians? Why?

— OurFavOnlineDoctor ?? (@DrOlufunmilayo) February 17, 2019