Photos: Shiites Take Over Abuja Streets, Say They Are Ready To Die For El-Zakzaky
Shiites Demand Zakzaky's Release
Members of the Islamic Movement of Nigeria (IMN), popularly known as Shi'ites, today, re-stated their resolve to secure the release of their leader, Sheik Ibrahim El-zakzaky.
The Shiite members vowed not to back down until their leader and his wife, Zeenat are released from government custody where they have been since 2015.
They made this known in Abuja on Tuesday as they stormed the streets of the Central Business District of Abuja in protest.
"We are ready to die for Elzakzaky. We will not back down until our leader and his wife are released. We are ready to die for El-zazaky."
Zakzaky is standing trial for alleged murder, culpable homicide, unlawful assembly, and disruption of public peace, among other charges.
Naija News recalls the Shiite leader and his wife have been in custody of government security operatives since 2015.
See some pictures from today's protest: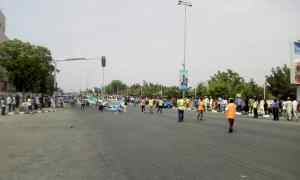 Photo Credit: TVC