Metele Killings: Group Urge Army To Remain Strong And Steadfast In War Against Terrorism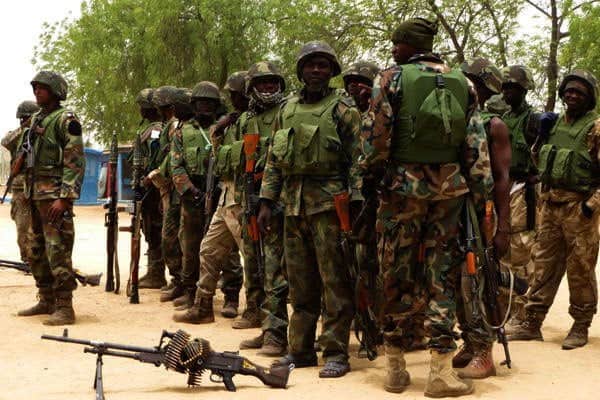 The Nigerian Army have been urged to remain steadfast and resolute in the war against terrorism.
This message which was sent by a group of people under the platform of Patriotic Youth in Nigeria (PYN), also advised Nigerians to double their support for the Chief of Army Staff, Lt Gen Tukur Buratai and other commanders leading the war.
They further urged the army not to be dissuaded by the recent attack in Metele area of Borno State, which led to the death of some officers and soldiers on the battlefront .
Atawodi, the National President of the group, while addressing a press conference on Wednesday, encouraged Nigerians to double their support for the Nigerian Army and other security agencies coordinating the anti-terrorism campaigns.
His words, "The last few days have been really challenging for the military hierarchy and for President Buhari as well- uneasy lies the head that wears the crown, as is commonly said. Without a doubt, our military remains committed to securing Nigeria and Nigerians, this commitment often requires selfless sacrifice sometimes even the Ultimate Sacrifice.
"It is therefore very regrettable that whenever these valiant defenders encounter setback in their campaign to rid the land of bloodthirsty insurgents, the very ones being protected see it as another opportunity to ridicule, demean and sometimes even deride the role of the military in ensuring our peace and safety as Nigerians. Reasonable folks acknowledge that setbacks are a regular feature in the menu of success and the wise know that hardly is there any success story without a setback.
"The recent attack on the military in Metele, Borno State is highly regrettable; many officers and Nigerian soldiers lost their lives as admitted by the army. It was indeed a very sad event.
"We, the Patriotic Youths in Nigeria PYN, find it really appalling that in the midst of this calamity, some mischievous and unscrupulous persons have sought to make some political gain from it; this is downright shameful to say the least.
"War is always unpredictable and we all can agree that anyone can start a war but nobody can ever tell how it will go or when it will end. As sophisticated as the United States of America is, the US Army suffered the hugest recorded casualty- in men and machinery- in Afghanistan, 9 years after the anti terror campaign started i.e. in 2010 when they lost as much as 499 soldiers. Note that the number is just one less than 500 US Army soldiers lost while fighting in the same locale after nine years! Similarly, they lost 418 soldiers in the following year 2011.
"Why did we have to bring out all this statistics? We did this to show to all who may be genuinely concerned, that a setback in a war does not mean a defeat. Whilst it is not our desire that such occurrence should happen again, it is important we put things in proper perspective.
"At this critical time the army needs our support more than ever before. This should not be a time for partisan politics. The desire of the terrorist group Boko Haram is to divide us further by any means. When we begin to help share their propaganda video, we are ignorantly and maybe maliciously propagating their evil narratives.
"Nevertheless the Nigerian Army must be commended for their conduct in this battle and despite this recent setback, it is important that we do not lose sight of where we are coming from as a nation; only a few years ago, this same terrorist group had captured and controlled totally over 14 local governments in the north eastern part of Nigeria. They even hoisted flags and collected taxes as though they were a legal and sovereign authority."
Source: Naija News