Akwa-Ibom Crisis: CP Musa Kimo Speaks On His Involvement In State Assembly Siege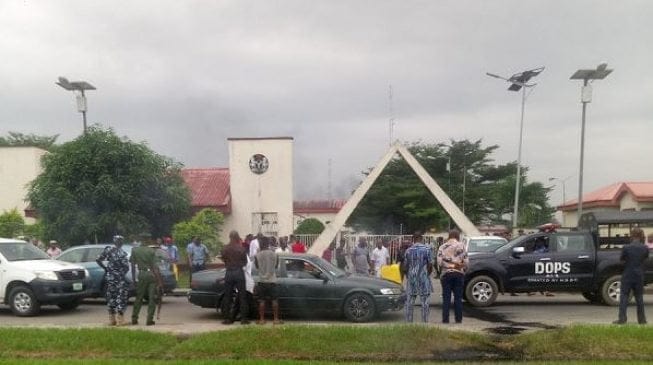 Akwa-Ibom Commissioner Of Police, Kimo Answers Allegations On State Assembly Crisis
Despite the number of fingers pointed at him,  Akwa Ibom State Commissioner of Police, Musa Kimo, has denied direct police involvement in the state House of Assembly crisis which started on November 19.
Recall that the state governor, Udom Emmanuel had called for the redeployment of the CP Kimo while about 15,000 women in protest, called for the removal of the same yesterday threatening to go naked.
This is after the state House of assembly was barricaded by policemen repeatedly in two weeks, Naija News reports.
While addressing newsmen on another crisis which occurred on November 27 at the Assembly, Kimo noted that the police under his watch will always provide a level playing ground for everybody in the state.
The CP also warned politicians and their supporters in Akwa Ibom to eschew violence, thuggery and other vices, but embrace peace or explore legal options in settling their difference.
Kimo admonished those with issues that could lead to the break down of law and order to approach courts of competent jurisdiction to settle their matters amicably.
"We will not be partisan, but fair, just and responsible; above all, we will be professional in the discharge of our duties.
"We will provide a level playing ground for everybody; we are here to save life and property, the police cannot do it alone; we need the cooperation of law abiding citizens of the state," he said.
Kimo, the 25th commissioner of police in the state, who assumed duty on November 23, also acknowledged the peaceful nature of the state.
He said without the sustaining the peaceful atmosphere, the state would not achieve the desired development.
"Peace is important and desirable, especially at this point in time; without peace, we cannot actualise our dreams.
"It is unfortunate the way and manner politics is being played.
"We appeal to politicians and their supporters to eschew violence, thuggery; be peaceful and be orderly and do things according to law.
"We are for everybody. I am here to serve, unfortunately so many unsubstantiated information is being peddled,
"I am pained by this; we are human, but it's unfortunate. I can tell you as time goes on, you will know who I am and the police under my watch," he said.
Kimo also responded to the allegation of his men leading the five sacked House members to the assembly.
"It is totally false. In what way? Mind you, all the House members have policemen attached to them, this is not peculiar to Akwa Ibom state only.
"For us the police, for now, we have no right to prevent 'A' or 'B' from accessing the House, it is only the court that can direct, a court of competent jurisdiction.
"I did not send any police man to the assembly. Do you know that, if we did not deploy police to stay, not far from the assembly, possibly by now the structure might not have been there.
"Unfortunately, people do not appreciate what we do, we should be encouraged especially when we are doing the correct thing," he said.
He said the police arrested only one person with locally made pistol, saying that the allegation of seizure and release of 18 Ak47 and fake soldiers was not true.
Source: Naija News