Police Drag 130 Shiite Members To Court Over Abuja Protest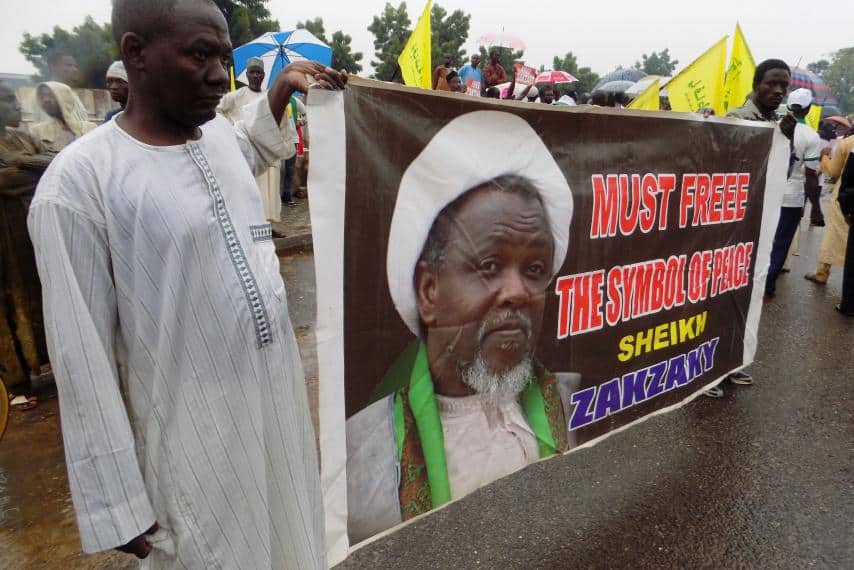 Not less than 130 protesting members of the Islamic Movement of Nigeria also known as Shiites, were on Thursday arraigned before a Magistrates' Court in Wuse Zone 2, Abuja.
They were arraigned by the police on charges bordering on their alleged involvement in protests which recently resulted in violent clashes with security operatives in Abuja.
Recall that the shiite members had taken to the streets of Abuja in another of their frequent protests, demanding the release of their leader, Sheik Ibrahim El-Zakzaky but this time there were violent clashes with security personnel during their protests.
Zakzaky, and his wife, have been in the custody of the Department of State Services since December 2016.
Of the 130 shiite members conveyed to court in two police trucks on Thursday , 12 are women, including nursing mothers.
Information made available to Naija News, says they were arraigned in four batches before courts 11, 15, 17 and 18 of the Magistrates' Court in Wuse Zone 2, Abuja.
They were charged, with "joining or continuing in unlawful assembly when it has been commanded to disperse; disturbance of public peace, rioting and causing hurt".
The offences were said to be contrary to section 79, 104, 113, 106, 242, of the Penal Code.
The defendants pleaded not guilty when the charges were read to them.
Their lawyers subsequently applied for bail.
In Court 11 of the Magistrate's Court presided by Njideka Duru, 35 of the defendants who were arraigned there, were each granted bail in the sum of N50,000 with a surety in like some.
Another magistrate, Musa Ibrahim Jibo, of Court 15, granted the 35 defendants arraigned before him bail in the sum of N200, 000 with one surety each.
Another magistrate of Court 17, Lateef Abolaji, granted bail to the 20 brought before him in the sum of N50,000, while Elizabeth Woni of Court 18 granted bail in the sum of N500, 000 to the 30 brought before her.
All the 130 defendants are to be remanded in prison until they are able to meet their bail conditions.
The cases were thereafter adjourned till December 5 for further hearing.