PDP Alleges Plans By Presidency To Detain Fayose Indefinitely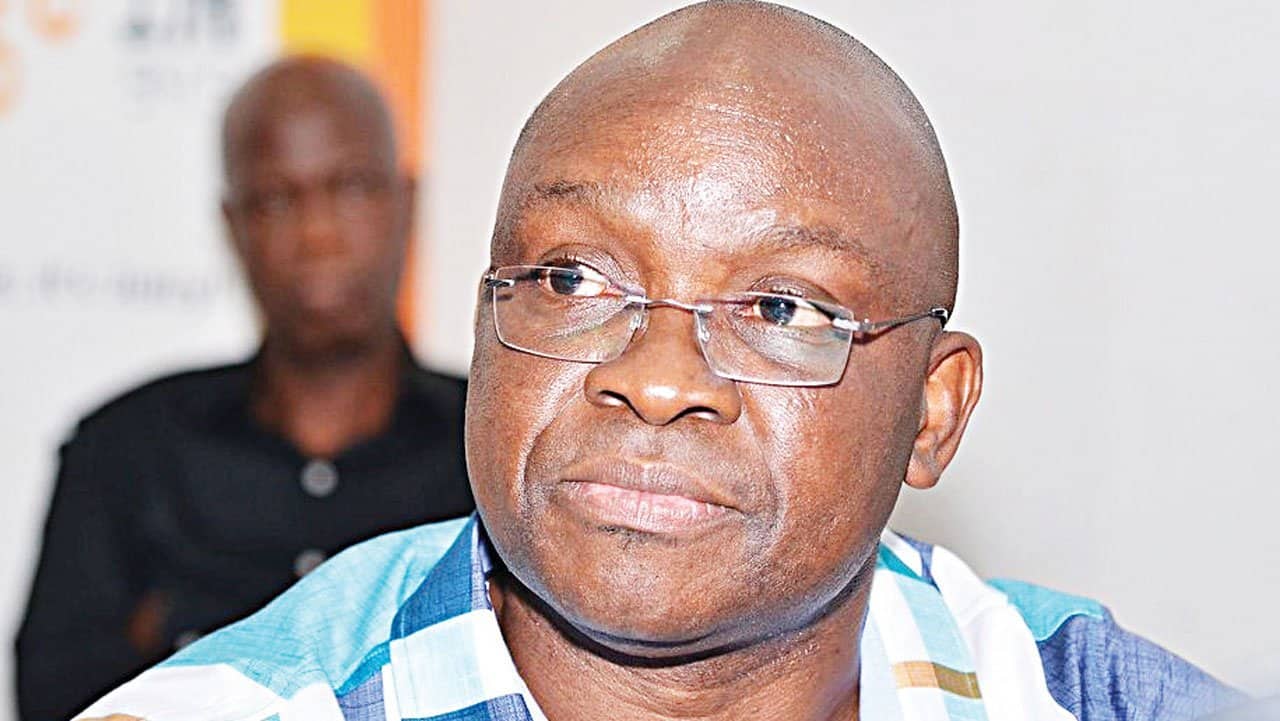 The Peoples Democratic Party (PDP), has, on Monday, accused President Muhammadu Buhari of ordering the arrest and indefinite detention of the outgoing governor of Ekiti State, Ayodele Fayose.
The National Publicity Secretary of the People's Democratic Party, Mr. Kola Ologbondiyan, in a statement, stated that the party has gotten wind of plans by the EFCC in compliance with the order of the Presidency to arrest and detain Fayose.
"information at the party's disposal and all over the social media indicate that the Presidency has put the commission on alert to arrest the governor at midnight today and detain him indefinitely."
"Presidency is not unconnected with the plot to use the EFCC and other security agencies to incarcerate the governor owing to his persistent criticism of the President Muhammadu Buhari-led APC government."
The statement claimed that the presidency has given EFCC a standing order to ensure that Fayose be arrested immediately after hand over.
"This uncompromising stands of the outgoing governor against the present administration was the reason Ekiti State was invaded and taken by force during the last governorship election.
"By 12 midnight, the governor's residence is expected to be surrounded by armed men of the EFCC under the pretense that they had information of his plot to escape. This is to achieve their plan to humiliate the governor and portray him in bad light to the public by dramatising his arrest.
"Nigerians can recall that it was the governor who offered to submit himself to the EFCC despite the commission's clear display of bias and partisanship as demonstrated in its various actions, especially its tweets and putting the governor on security watch-list.
"EFCC even unprofessionally showed its bias in deriding the governor, making light of a very serious matter by mocking him and asking him to come before his tenure elapsed, which the governor declined in line with the constitutional immunity.
The spokesman of the party also affirms Fayose's readiness to fight for justice and to defend himself despite the determination of the federal government to nail him for standing up to President Buhari.
"It is now beyond dispute that Governor Fayose is not a scoundrel running away from justice. Whatever the EFCC, APC, and the Presidency's spin-doctors may say, it is also clear to everyone that Fayose is not a coward; neither is he afraid of the EFCC.
"Fayose is prepared and ready to defend himself in the court of law. Neither the Presidency nor EFCC is a court of law. Since the EFCC said it had dusted up Fayose's files, it should be ready to take him to court once he presents him at the agency's office on Tuesday.
"Governor Fayose has offered to walk to the EFCC office by himself and nothing must happen to him tonight. The PDP condemns this resort to fascism by the APC government, saying the whole world should be at alert to see another demonstration of crude disrespect for the rule of law and rights of Nigerians."
Source: Naija News