Kano State Government Speaks On The Video Showing Ganduje Allegedly Receiving Bribe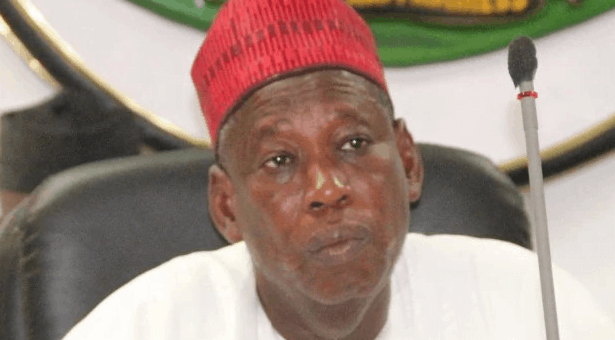 Kano State Government Claims That The Video Is Cloned
The Kano State government has reacted to the video revealing the state Governor, Abdullahi Ganduje, allegedly receiving bribe in dollars, the state government claimed that the video was doctored.
Muhammad Garba, the Commissioner of Information in the state, stated this in a statement that was released on Sunday evening after the video went viral.
The state government had claimed days before the video was released after the news of the bribery broke out that the video would soon be circulated.
"We wish to state that there is no iota of truth to these allegations and if indeed there is any such alleged video, it is at best cloned," it had said.
The video has attracted reactions from many Nigerians especially at this time that the President Muhammadu Buhari administration has slammed a travel ban on some Nigerians accused of corruption.
Garba, while reacting to the trending video claimed that the clip was "cloned, doctored, disjointed" and that it was deliberately released to "affect the anticipated quantum of APC votes from Kano in 2019".
He said: "Kano state government has decided to file a criminal case against an online publication Daily Nigerian and its publisher on defamation of character after it released a clone and doctored video footage mischievously portraying Governor Abdullahi Umar Ganduje involved in an inappropriate conduct.
"The Office of the Attorney General and Commissioner for Justice is challenging the implausible and eccentric posting of the cloned video that went viral in a court of law considering the gravity of the caricature, which indicates the extent to which mischievous elements can go to discredit public figures by wielding non-existent scandals against them.
"A mere observation of the cloned video clearly shows that the video is doctored and disjointed with no material facts or evidence to prove the allegations, other than a callous attempt to tarnish the hard earned image of the office and the person of the Governor.
"The Governor of Kano State wishes to once again emphatically debunk the allegation of receiving gratification of $5Million or any amount whatsoever from any person or body.
"It is important to draw the attention of the general public to the fact that the alleger is a serial blackmailer and extorter.
"We are also aware that the hidden motive is to reduce the popularity of the Governor and consequently affect the anticipated quantum of APC votes from Kano in the 2019 general elections.
"While the state government is taking the legal action, we wish to assure the good people of Kano that His Excellency will remain focus and continue with laudable programmes that will add value to the lives of the people of Kano State.
"We also call on the general public, especially members of the APC to remain calm and always be law abiding."