Lagos APC Primaries: Why Ambode Accepted Sanwo-Olu's Victory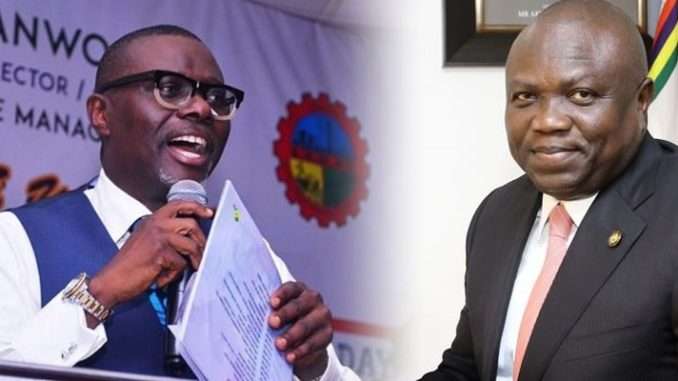 Source Hints That Ambode Is Trying To Avert Impeachment Moves Against Him.
Lagos State Governor, Akinwunmi Ambode, yesterday accepted that he lost to Babajide Sanwo-Olu, his opponent for the All Progressives Congress governorship ticket in Lagos Naija News reports.
Recall that Sanwo-Olu was declared as the winner of the state's Tuesday governorship primary, which was initially cancelled by the APC National Working Committee panel that had promised to announce a new date for the primary.
The panel however made a U-turn on Wednesday to declare Sanwo-Olu the winner, sparking speculations that the governor would reject the move.
A few hours after the panel's new decision, the governor's media team sent a press statement that the governor would host a "world press briefing" by 2.pm, causing more speculations.
In the briefing, which eventually turned out to be a broadcast, Ambode accepted defeat and congratulated Sanwo-Olu.
Punch reports that sources in both Ambode and Asiwaju Bola Tinubu's camps hinted that the move was meant to remove the tension, as well as avert the impeachment move being considered by party elders.
One of the sources said before and after the broadcast, Ambode had contacted Tinubu and some party leaders in a bid to assure them of his loyalty to the party, and in order to avert the impeachment option.
"He (Ambode) did not want the matter to get to that level; that is why he accepted the defeat to reduce the tension in the state and stop any panicky action by the party elders. He also wanted them to leave him in peace to complete all his projects," the source said.
On his part, the APC Publicity Secretary in Lagos State, Mr Joe Igbokwe, said he did not know about any peace move by the incumbent governor, as well as any deal.
He said, "I don't know about that."
One of Tinubu's aides also said it was still early to say. "Ambode just made his speech, every other thing would flow from the governor's decision to accept defeat and congratulate Sanwo-Olu." he said.
'Why APC NWC Upheld Primary'
On the APC Panel's decision to uphold Sanwo-Olu as winner of the priamries, another source disclosed that the decision was informed by the presence of relevant government agencies, including representatives of the Independent National Electoral Commission at the primary.
A member of the party leadership, on the basis of anonymity said, "Most people spoken to said the governorship primary was held in Lagos yesterday (Tuesday)."
Another party source also said that the President left the decision to the APC National Chairman, Adams Oshiomhole, who had earlier said there was election in Lagos.
The source added that Ebri did not take directive from the NWC before announcing that no primary took place.
Download Naija News App. Advertise with us. Send us enquiries and press releases.