Reactions Follow INEC's Declaration Of Gboyega Oyetola As Governor-Elect Of Osun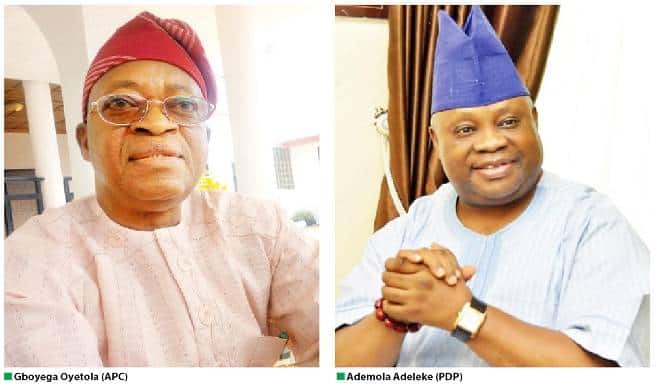 Nigerians React To Oyetola's Victory At Osun Polls
Reaction have continued to pour in after the Independent National Electoral Commission, INEC announced and declared Gboyega Oyetola of the All Progress Congress as Winner Of Osun Rerun.
Naija News recalls that President Muhammadu Buhari and others have already sent in congratulatory messages, while commending INEC for a well conducted election.
In series of Tweets however some Nigerians have also expressed displeasure at the turn out of the election, noting that the supplementary election was full of irregularities, adding that it was a shame for APC and Buhari to rejoice when it was clear that the election was rigged.
See their tweets below:
The elections successfully rigged to the favour of Oyetola. Exposes do-or-die politics of APC. Where is @MBuhari integrity? Broad day light robbery of the Osun people's mandate. Let God be true and everyman a list. God shall not keep silent!

— Rich Diamond-Mowarin (@shadrachRICH) September 28, 2018
Once APC and Oyetola are done with Osun state, they will either:
1: Have to place Osun, on Olx so people like Dangote can buy the state.
2: Open a go-fund-me account to help the Osun people pay salary.
?????????

— The Kingmaker? (@SmithVinci) September 28, 2018
it's a shame for buhari to congratulates oyetola with all the evidence of manipulation and so on, APC shame

— Osilalu Akorede (@koredeosi) September 28, 2018
My heart bleeds for this country, i shed tears last night reading reports concerning the Osunrerun election. Democracy is dead and buried in Nigeria "Gboyega Oyetola"

— Suxezlency (@Aisiensuccess) September 28, 2018
In further reaction, some said that INEC should be cancelled for conducting such an election and declaring APC as winner despite the evident irregularities that was witnessed at the polls.
See Tweets
Adeleke of PDP won by 300+ Votes and INEC says the Election was Inconclusive.
Oyetola of APC comes back to Win by 400+ Votes and INEC declares Him winner Admist Violence and Irregularities.

We. Concerned Citizens of this Nation want INEC Dissolved.
INEC is now a Family Venture.

— MPmania.com (@mp_maniac) September 28, 2018
A few comments as at the time of filing this report upheld Oyetola's victory at the polls while some have said that Oyetola's tenure as governorship is bad luck for the people of Osun. They Tweeted thus:
Congratulation to Gboyega Oyetola as the Governor of Osun State…….. APC again….. We don did it?????????? pic.twitter.com/JWUOzzNOHL

— Bibiz Fabrics (@liadibisolaolu1) September 28, 2018
Now, that APC has won the rerun and its candidate consequently returned, I hope they will learn from the Aregbe mistake of the so-called modulated salary structure. Let Governor – elect Gboyega Oyetola as a… https://t.co/eJP1dHfcAN

— Steven Wilson Windoy (@THEPREACHER247) September 28, 2018
The APC said Oyetola will build on the legacy of Aregbesola.

This is very funny as his predecessor didnt leave even a single block to begin a building process

but they are right on one thing though

Oyetola will continue the legacy of owing salaries.

— DID YOU KNOW (@obicharles11) September 28, 2018
Oyetola building on Aregbe policy which policy aregbe get before except suffering osun people. E Pele ara osun

— Adetayo Adeniji (@AdetayoAdeniji2) September 28, 2018
Source: Naija News