Osinbajo To Chair Minimum Wage Meeting Tuesday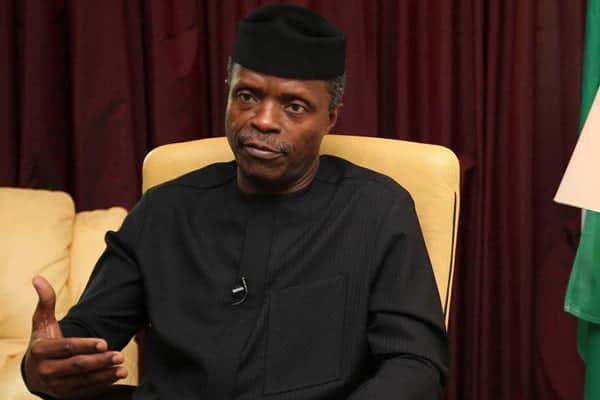 Vice President Yemi Osinbajo, will on Tuesday be  presiding over the Economic Management Team (EMT) meeting which will be dedicated to resolving the issue minimum wage.
Chris Ngige, the Minister of Labour made this known at the sidelines of the meeting with President Muhammadu Buhari alongside the chairman of the negotiation committee, Ms Amma Pepple, where they had brief the President on the progress made so far.
"Next week we have an economic management team meeting on Tuesday, specially dedicated to the issue of national minimum wage to be chaired by the Vice President. For anybody to say that this government is stalling or playing games will be uncharitable, because, we have done what we are supposed to do.
"We have the interest of workers at heart, we have not retrenched anybody, there is no embargo on employment, there is no embargo on promotions, we are paying backlog of promotional arrears, we are backing backlog of transfers and repatriation and the rest of them and we are giving them houses under FISH and the rest of them.
"So this government is a labour friendly government and we must put smiles on their faces before the next election…we are labour activists we don't want to turn our backs on them." he said.
Pepple, a former Head of Service of the Federation, said the committee will submit its report before the month ends.
She stated that the Labour Unions need a definite figure from the Federal government.
In her words: "Everything is on course but we need a definite figure from government and of course we have to carry the states along. So, we need those figures so that we can conclude on the figures we include in our report."
Naija News recalls that that the organised labour have been accused by the Minister of Labour of blackmailing the government by the two weeks ultimatum given by the unions on the issue.
Ngige blamed certain factors such as inability of governors to provide their figures to be debated by the committee negotiating the new minimum wage as one of the reasons for the delay, just as he assured that government was still within the timeframe it promised to deliver on a new minimum wage and was not stalling the process as alleged by labour.
The minister said the organised private sector had initially proposed a figure of N42,000 but later brought it down to N25,000, taking into account the current economic situation, ability to pay and ability to enhance and create new jobs
Download NAIJA NEWS app: