No Threat Within PDP Will Make Me Leave The Party – Ortom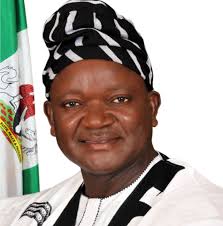 Samuel Ortom Kick Against Report Of Him Defecting
Samuel Ortom, Governor of Benue State, on Friday in respect to his recent defection to the Peoples Democratic Party, stated that no amount of gang-up within the party against him would make him leave the party for another political party again.
There have rumour that the Governor may defect from PDP to the Social Democratic Party.
The Governor who defected last month from All Progressives Congress to PDP, have been having disagreement between him the leadership of the party, on who controls the structure of the party in the state.
Terver Akase, the Chief Press Secretary to the Governor, while speaking on his behalf to newsmen on Friday in Makurdi said, discussion between Ortom and other governorship aspirants in the party were still ongoing.
He said, "As l speak with you, there is no such thought (of defecting) at all. The governor has joined the PDP, he was in the PDP before he left and he has said that he has come back home. So, there is no such thought at all.
"Ortom is a true member of the PDP and is confident of flying the PDP flag in next year's election.
"So, why should he think about leaving the PDP? There is no reason and no cause for such thought as I speak with you. l don't have to comment about what any aspirant is saying because the PDP I know is a big family that makes decisions to accommodate all its members.
"The party is still discussing and decisions have yet to be reached, but l know that any decision taken would not make Ortom to leave the PDP again."