PDP Accuses APC Of Plots To Arrest Saraki, Ekweremadu..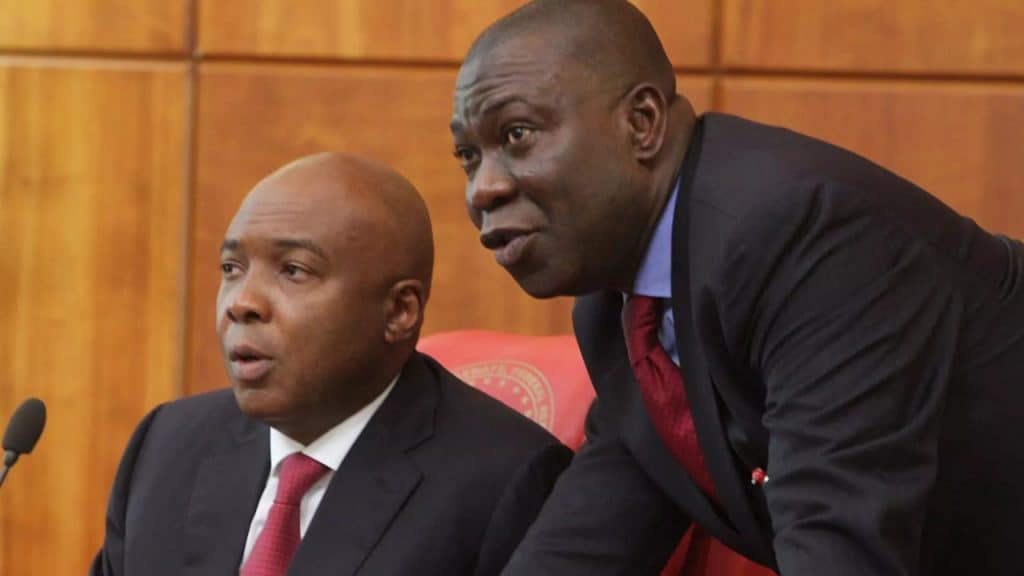 The Peoples Democratic Party (PDP) has again alleged a plot by the All Progressives Congress (APC) and the cabal in the Buhari Presidency to use compromised security agencies and the Economic and Financial Crimes Commission (EFCC) to invite, arrest and detain Senate President Bukola Saraki and Deputy Senate President Ike Ekweremadu.
The party claimed that it had unraveled fresh facts confirming that the pressure by the Presidency for the reconvening of the Senate is out of a sinister motive and not for any emergency in the approval of the budget of the Independent National Electoral Commission (INEC) for the 2019 election.
The National Publicity Secretary of the party, Kola Ologbondiyan, said in a statement that;
"The fresh plot to detain the two presiding officers is part of renewed design to keep them out of circulation, ahead of Senate resumption, so as to enable the heavily induced APC senators, who are now in the minority, to throw up two of their members as Senate President and Deputy Senate President respectively on the excuse that Saraki and Ekweremadu failed to show up for proceedings in the Senate."
"The PDP notes that the new plot to cage Saraki and Ekweremadu, in devilish rehash of the Tuesday July 24, 2018 hostage-taking and invasion of their official residences by security agencies is coming after the August 7, 2018 failed attempt to use security forces to take control of the leadership of the Senate."
The Party also alleged that the ruling APC was planning to witchhunt its members with the EFCC:
"Apart from plots to arrest and detain Saraki and Ekweremadu, the PDP has also been made aware of plans to use the EFCC and security forces to clamp down on their family members, including their wives and siblings as well as close associate, all in the effort to weaken their resolve."
"Moreover, investigations by the PDP further confirm that the insistence of the APC-led Federal Government on the emergency reconvening of the National Assembly, ostensibly to consider INEC's budget for the 2019 election, is part of APC's thicker plot to execute their premeditated 'coup' on the leadership of the Senate."
"PDP was further informed that contrary to claims by the APC and the Presidency, INEC actually submitted the budget to the presidency since February 2018, only for the Presidency to submit it to the National Assembly in July when the legislature was already going on recess; with a view to enmesh it in a needless controversy."
"Furthermore, the PDP counsels Acting President Yemi Osinbajo to stop acting saint, as Nigerians are aware that he is part and parcel of the actors behind the sordid developments playing out in the National Assembly."
"The PDP invites Nigerians and the international community to note the activities of the APC and the Buhari Presidency, which have continued to put the unity and stability of our nation as well as our hard-earned democracy under serious stress."
"In all, the PDP cautions the APC and power mongers at the Presidency to know that Nigerians have seen through their evil intentions and will continue to firmly resist them by standing for democracy and the unity of our nation at all times."