I Have Made Sacrifices For Nigeria And I Will Make Again – Obasanjo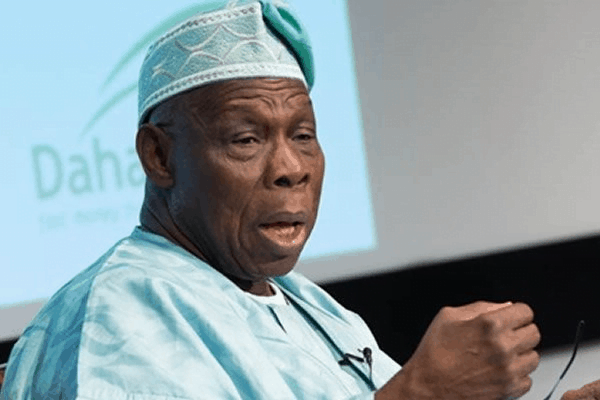 Former President Olusegun Obasanjo Pledges To Continue To Fight For A Better Nigeria.
Former Nigerian President, Chief Olusegun Obasanjo, has reiterated his desire to see Nigeria become better.
While receiving a former governor of Sokoto State, Attahiru Bafarawa, who came to consult the former president on his (Bafarawa's) presidential ambition, Obasanjo noted that he  was ready to make sacrifices for Nigeria as he did before.
Bafarawa came with members of his campaign organisation and political associates.
The former president said he had been threatened and intimidated because of his conviction for a better Nigeria, but he said they had all amounted to nothing.
He called on Bafarawa, who is one of the presidential aspirants on the platform of the Peoples Democratic Party, to pursue his dream of making Nigeria better if elected president in 2019.
He said, "The situation of Nigeria today is not the one any right thinking Nigerian should applaud. And my own strong belief is that Nigeria deserves better than we have now. And we can get better than what we have.
"And so, you are to see what you can do, that is why you are aspiring to make Nigeria better than what it is today.
"Nobody who loves Nigeria will not want it to be better than it is today. I, definitely, have made personal sacrifices and I will make again. Talk of fighting in the battlefield and shedding of one's blood, or even talk of going to prison, because I believe in democracy.
"I went to prison for doing nothing wrong. I have also been intimidated and threatened. What would you do to intimidate somebody like me? Whatever you are trying to do to me, people have tried to do it to me in the past, and it amounted to nothing and it will amount to nothing.
"Because before I act, I pray to God to guide me and I think of Nigeria first, particularly the majority of Nigerians who are underprivileged, whose situation we need to improve upon."
He called on Nigerians to remain resolute in their quest for a better nation, advising that they should shun divisive tendencies.
Obasanjo added, "If we do not act together as we should act together, Nigeria will not be what it should be in 2019. Aspiration? Yes, but the objective must be clear. If the opposition starts going in different directions and pulling in different ways, Nigeria's situation will not change.
"A population of 200 million, for us to continue to complain that things are not right, we are doing the same thing as we have done before. And if we keep doing the same thing, the result will not be different. If we want a different result, we must do things differently. And I believe we can do things differently."
Obasanjo, who described Bafarawa as a detribalised Nigerian, said Nigerians should see themselves in this light if they really wanted a new Nigeria.
The former president noted that there were three attributes he wanted to see in a leader, which he claimed to have seen in Bafarawa. They include diligence, humility and non-discrimination against other people.
He said since Bafarawa had said he wanted to improve Nigeria, he would support him and his ambition, adding that though between 1999 and 2007 when they had interactions, as president and governor, they had their areas of genuine differences.
In his remark, Bafarawa commended Obasanjo for his love for Nigeria, adding that if there was anyone fighting corruption today without recognizing Obasanjo, that person was a joker.
Download Naija News App. Advertise with us. Send us enquiries and press releases.