Obasanjo Vows Not To Support Atiku's Presidential Ambition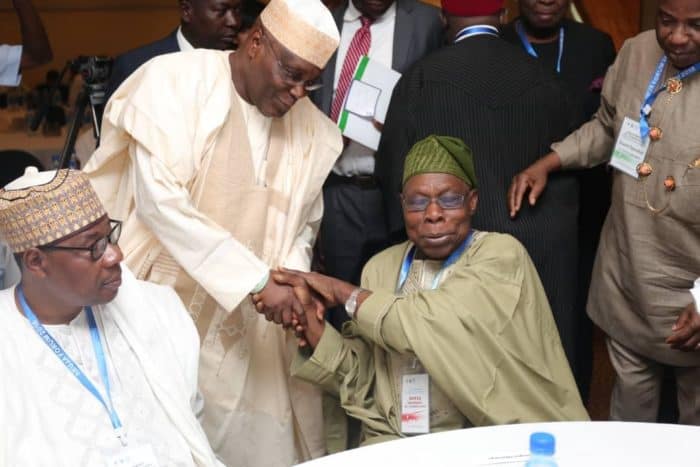 Former President Olusegun Obasanjo has swore that his Former Vice President, Atiku Abubakar would never enjoy his support as he aspire to be the Presidential flag-bearer of the People Democratic Party (PDP) come 2019.
The Former president insist that Atiku should never count on him to support his latest bid to actualise his life-long ambition of being elected the president of Nigeria.
Obasanjo, who made this known in an interview with Premium Times, swore he will never support Atiku's Ambition.
"How can I be on the same side with Atiku?" Chief Obasanjo asked. "To do what?"
"If I support Atiku for anything, God will not forgive me. If I do not know, yes. But once I know, Atiku can never enjoy my support," he added.
According to NAN, Obasanjo's pronouncement comes barely two weeks after Mr Abubakar declared his intention to run for president and weeks after a photo-op between him and Obasanjo at an event on China Africa relations, organised by Gusau Institute in Abuja.
"I do not have personal grudges with anyone, If you do not do well for Nigeria, you do not do well for all of us."
"It is not a question of working with or not working with an individual," he said. "If you are working for the good of Nigeria, I am working with you. If you are not working for the good of Nigeria it does not matter who you are I am not working with you."
"Most of you do not understand the way I operate," Mr Obasanjo said. "And I thought your own paper will understand better."
"I know Atiku very well. And I have mentioned my position with Atiku. My position has not changed," he said.
On a personal note, he added, "If my children are getting married, he has sent representatives. If his children are getting married, I have sent representatives. That is social. That is not political.
But "on political ground, my position has not changed. If I support Atiku for a political office other than the one I supported him in the past when I did not know him," maybe, but not "now that I know him, God will not forgive me."