2019: Ex-VP Atiku Abubakar Blast President Buhari Over KIlling In Nigeria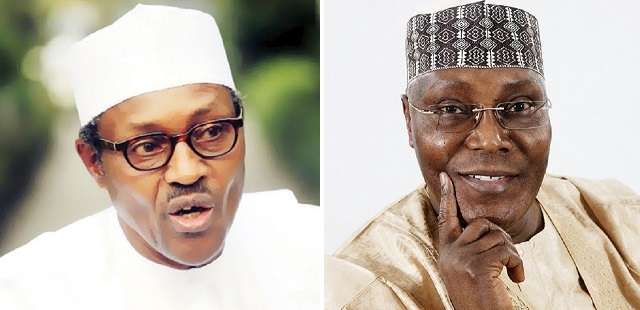 Atiku Declares Presidential Bid, Tackles Buhari
Former Vice President Atiku Abubakar has slammed President Muhammadu Buhari  over killings Nigeria today while announcing his presidential ambition Under the Peoples Democratic Party  before a cheering crowd in his home state of Adamawa
Naija news Understands that Mr Abubakar said President Muhammadu Buhari's government would be remembered more for its bloodshed than any development it brought to citizens.
"Today, we are witnessing the most insecure atmosphere," Mr Abubakar said of the killings largely blamed on herdsmen, bandits and militias, before promising to tackle them headlong if elected. "More people died under APC than people killed in Iraq and Afghanistan."
Mr Abubakar told a crowd chanting "Atiku! Atiku!" shortly after 2:00 p.m. that he would curtail inflation and unemployment rate in the country, saying Mr Buhari and the ruling All Progressives Congress have displayed a common lack of capacity when it comes to the issues that matter to citizens the most.
"Today, we have the highest unemployment rate in history of this country, more than one million of our youth are unemployed," Mr Abubakar said, adding that the PDP would secure the country, ensure unity and security of life and property.
He also hit Mr Buhari at one of his most vulnerable areas: "Today, we are more divided than at any other time in Nigeria's history."
The president has been accused of packing key federal offices with people from his region, with critics slamming him as flouting the federal character and affirmative action principles enshrined in federal laws as necessary fabrics for holding an ethnically and religiously diverse entity like Nigeria together.
Mr Buhari has often pushed back against the claims, saying instead that his appointments have been balanced where they are not skewed towards the south.
With him at thes rally were Uche Secondus, the party's chairman, Gbenga Daniel, his campaign director, and Ben Murray-Bruce, a serving senator who also emceed the televised event.
Meanwhile ,The Presidency yesterday lampooned the Northern Elders Forum (NEF) and called on Nigerians to discountenance the leadership of the socio-cultural organization, who it said were merely shedding crocodile tears having lost grip on free resources of state.
The Presidency in a statement signed by Senior Special Assistant on Media and Publicity, Garba Shehu, yesterday said it considers a communiqué issued by the "ethnic and sectional groups" who recently assembled in Abuja as selfish and only aimed at keeping Nigerians incensed.
The Presidency said it considers the communique as the shedding of crocodile tears by selfish leaders, who felt alienated after a transparent and accountable system halted their disproportionate survival on resources of the state.