Ekiti Election: Police Helped APC Rig Election – PDP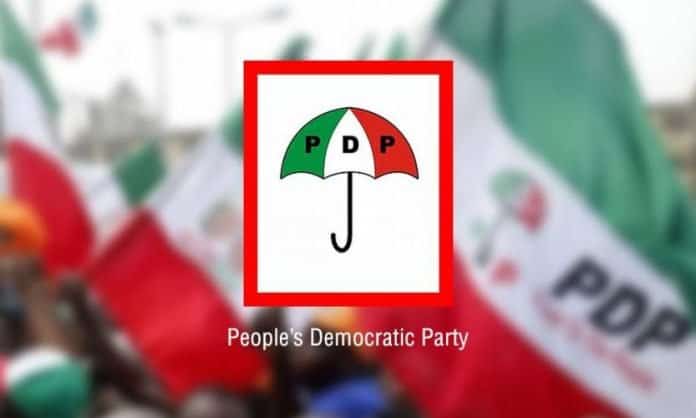 The Independent National Electoral Commission (INEC) has been accused by the  People's Democratic Party (PDP), Ekiti State chapter of conspiring with the Police to rigging the July 14 governorship Election in Ekiti state on behalf of the APC.
Chief Gboyega Oguntuase, the chairman of the party in the state also accused the police of helping the All Progressive Congress (APC) induce the electorate with money on the day of election.
Oguntuase, while addressing a news conference at the party secretariat on Monday, accused the governor elect Dr. Kayode Fayemi of stealing the mandate of the PDP, which he promised to get back at the tribunal.
The Chairman, who alleged that the election was a fraud stated that since the announcement of the result by INEC, the people of Ekiti have been dejected and bereaved.
Oguntuase alleged that "the will of Ekiti people was bought and their conscience purchased" with funds mobilized to the state by the APC to secure victory at the poll.
He stated further that the party have been encouraged to seek redress in the court of law  by prominent Nigerians who are knowledgeable about the fraud perpetrated by the APC.
He accused INEC of recording more votes than the number of accredited number voters.
The PDP boss alleged that about 20 members of the party including four aides of the Chief of Staff to the Governor, Chief Dipo Anisulowo are still being detained and kept in unknown places.
He stated that some PDP members including; House of Assembly member, Dr. Samuel Omotoso; Commissioner for Public Utilities, Mr. Tunde Ogunleye; a PDP member in Ikole, Moji Eleja; former Ado-Ekiti council chairman, Mr. Taye Fasuba; younger brother to deputy governorship candidate, Mr. Deji Ogunsakin; were assaulted by people alleged to be members of the APC.
Oguntuase frowned against the deployment of over 30,000 police officers for the election alleging that they came to Ekiti to work for APC.
Oguntuase also condemned the alleged invasion of Ekiti by senior government officials of neighboring APC-controlled states claiming that the Secretary to the State Government of one of the states alleged perpetrated mayhem in Ilejemeje local government area.