Fayose Using Cattle Ranching To Play Politics – Fayemi Campaign Group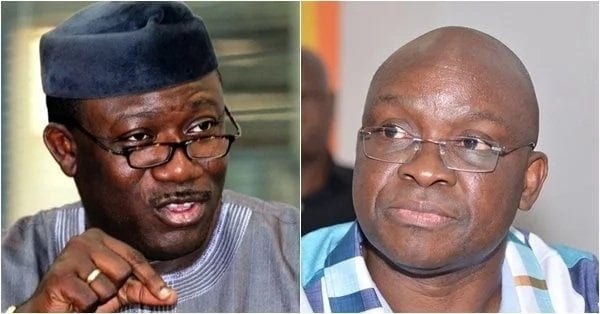 Fayemi Attacks Fayose On Cattle Colonies Claim
In recent weeks there has been speculations that the All Progressives Congress governorship candidate in Ekiti State, Dr. Kayode Fayemi, is planing to create cattle colonies across the state.
Governor Ayodele Fayose has however, been accused by the Kayode Fayemi Campaign Organisation, of insincerity in his claim that Fayemi plans to create cattle colonies if he wins the July 14 election.
Fayose was accused of running a campaign of blackmail and lies instead of programmes to campaign for his candidate to voters.
Wole Olujobi, the Director, Media and Publicity of the Kayode Fayemi Campaign Organisation, in a statement accused the present governor of Ekiti of exploiting the herdsmen's crisis across the nation to paint Fayemi as a supporter of the attacks by the herdsmen.
"Fayose has been deceiving Ekiti people and indeed all Nigerians that Fayemi is a promoter of herdsmen's activities and that he is ready to create cattle colonies as one of his principal programmes so that herdsmen can unleash terror on Ekiti people.
"By this misrepresentation, Ekiti people will be unwilling to vote for Fayemi whereas Fayose himself in his Executive Bill he signed into the law last year had approved the creation of cattle colonies across the state to solve herdsmen's crisis.
"After Fayose signed the law establishing cattle colonies across the state, immediately he discovered that herdsmen crisis is a good point to nail Fayemi, he quickly lapsed into manipulating the alleged plan to create cattle colonies by the APC candidate to paint him black."
KFCO accused Fayose of running Ekiti State like a foreman at a construction site.
Source: Naija News