APC Will Not Be Distracted By New Faction – Oshiomole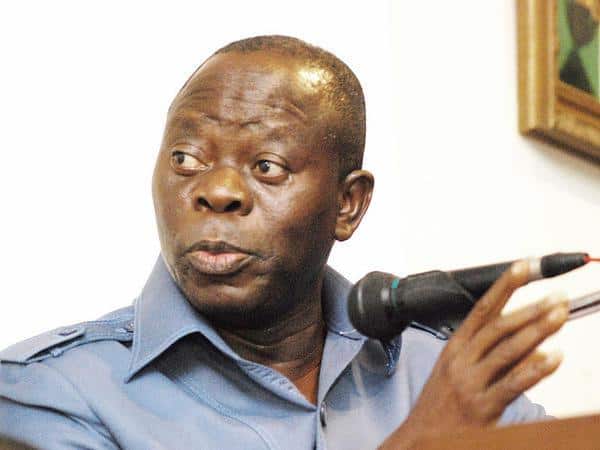 National Chairman Of APC Says Members Of The New Faction Are Hired And As Such APC Will Not Be distracted By Them
Comrade Adams Oshiomhole, national chairman of the All Progressives Congress (APC), has described  members of the new faction as hired mercenaries and as such he cannot lose sleep over them.
Oshiomhole who disclosed this while addressing journalists at the national assembly after a marathon meeting with the APC caucus in the house of representatives, said he had been engaging "real stakeholders" of the party as part of measures of resolving the crisis in the party.
"There is no breakup in our party, if one Galadima is not happy, that is fine. He has a right not to be happy," he said.
"If he chooses to call himself whatever he wants to call himself, that is not the issue. I will not lose my sleep over that. We know those who are in the system. Those who are seeking breakup that is their problem. We are engaging real stakeholders. I mean between the executive and the two arms of the national assembly.
"We have very important influential leaders we are engaging. If people are being sponsored by those who thought our convention will be a failure, those who were expecting implosion, so be it. If you reviewed the headlines before the convention, there were stories like people are going to walk out of the convention; people will boycott the convention.
"In the end, they were shocked to find out the president was seated, the senate president was seated, the speaker was seated and the national leaders were seated. Our chairman was seated. All the governors were seated. They were like what do we do next? If after two weeks of living in pains that they are disappointed, they find mercenaries who are willing to be hired for a purpose, they have right to be hired but will not cause any distraction within the core of APC leaders."
He ruled out the fear that the splinter group would affect the chances of the party in the 2019 elections.