Ekiti Election: Ekiti State Is Still Troubled By 2014 Election That Produced Fayose – Bamidele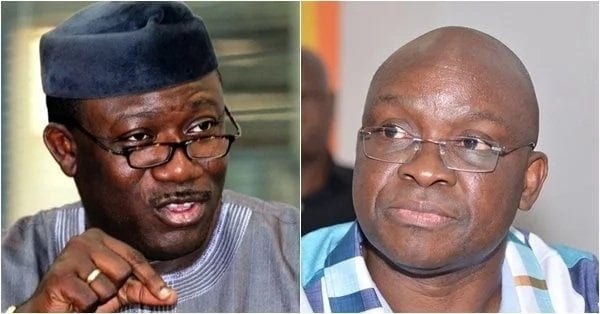 Opeyemi Bamidele
U

rges People Of Ekiti To Vote Out Fayose In the Coming July 14 Election

As Ekiti State gets ready for July 14 governorship elections, Director-General of the campaign for Kayode Fayemi, governorship candidate of the All Progressives Congress (APC) in Ekiti state, Opeyemi Bamidele has urged the people of the state not to vote for PDP.

In a statement today, Bamidele clearly stated that the state is still troubled by the 2014 election that produced Fayose.

"The coming election is an opportunity for the mistakes of the past to be rectified," he said.

"The ghost of the 2014 is still haunting us up to now. It was a day when the masses out of emotions voted for suffering, poverty and undeserved neglect.

"That was why policies that had brought pride to us as a state revered for having one of the most populist government in Nigeria were abrogated under Governor Fayose's regime."

Bamidele listed the social security scheme, youth in commercial agriculture, volunteer youth corps and Ekiti Peace Corps as projects that were stopped by the Fayose government.

"The food Bank system and Village Kitchens, and dignified policy established by the APC administration in the state to give feeding supports to the indigent, have been jettisoned for the that highly beggarly stomach infrastructure," he said.

"In the area of education, the reformed bursary and scholarship scheme initiated by Fayemi that funded the education of over 100 PhD students, 250 Masters, over 1,000 Law School students and several degree students had been abolished. Even students could no longer access the paltry N10, 000 annual bursary to cushion the effect of highly ravaging poverty in the system."

He added that Fayemi, who governed the state between 2010 and 2014, paid workers' salary as and when due.

Bamidele accused Fayose of paying based on political affiliation, leaving behind officers he suspected not to belong to his political camp.

Meanwhile Naija News recalls that there have been continous trading of words over alleged planned rigging of the elections between the camps of Fayemi and Governor Ayodele Fayose.