Three Nigerians Bag Queen Elizabeth's Young Leaders Award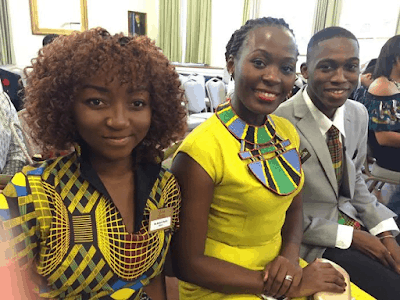 Queen Elizabeth Accompanied By Duke of Sussex, Others Awards Three Nigerians In London
Three Nigerians Hauwa Ojeifo, Isaac Ezirim and Kennedy Ekezie-Joseph yesterday, received  Queen Elizabeth 's Young Leaders Award at a special ceremony at Buckingham Palace, London.
The awards were in honour of the work they are doing to transform lives in their communities.
The Queen's Young Leaders Awards programme, now in its fourth and final year, celebrates the achievements of some of the most exciting young change-makers from across the Commonwealth.
This year's group from 38 Commonwealth countries are working on finding solutions to global issues such as climate change, food scarcity, gender-based violence, mental health, and access to education.
Guests including David Beckham OBE, Sir Lenny Henry CBE, Nicola Adams OBE, Neelam Gill, Caspar Lee, Tina Daheley, Ore Oduba and Chairman of The Queen Elizabeth Diamond Jubilee Trust, Sir John Major, joined award winners at Buckingham Palace to congratulate them on their remarkable achievements.
The Duke of Sussex who joined the awardee and recently named a Commonwealth Youth Ambassador said: "In this rapidly changing world, it is heartening to meet so many inspiring young people gathered here today, who have already stepped up as leaders and improved the lives of so many people across the Commonwealth. You are the hope and optimism the world needs and we will all do whatever we can to support you in it."
Similarly, David Beckham OBE expressed joy to be part of the awardee, describing the Nigerians as hardworking people.
In his words "It's really inspiring to meet these hardworking young people, who continue to dedicate their time and energy to helping other people live a better life. Hearing their stories and the sacrifices they've made is a real honour and I feel very privileged to celebrate with them today."
Isaac received his award for the work he is doing to teach coding to teenagers in low-income areas, founding Teens Can Code which is currently training 200 teenagers how to build web and mobile applications using the same tools that are used by professionals in the tech industry.
Hauwa  got an award for the work she is doing to tackle the stigma around mental health, running a women's support group called She Writes Women, which focuses on mental health support and outreach among some of the most vulnerable people in the community.
While Kennedy received an award  for the work he is doing to promote women's rights in Nigeria, founding the Calabar Youth Council for Women's Rights (CYCWR), which supports the rights of women in the areas of female genital mutilation (FGM), domestic abuse, forced child marriage and access to education for girls
The Trio in their remark thanked the Queen for her thought, expressing joy  at the recognition given to them.
28 year old Isaac Ezirim, said: "I am extremely honoured and thankful to Her Majesty The Queen for this prestigious award in recognition of the work I am doing in Nigeria. These are moments of utmost happiness for me and the communities I serve. It's been such an amazing experience being here in the UK and meeting all of the other Award winners. Being part of the Queen's Young Leaders family is exciting and I can't wait to take this to the next level."
Hauwa Ojeifo, 26, said: "It is a rare privilege to receive an Award from Her Majesty The Queen for the work I am doing in mental health in Nigeria. It has been a completely transformative experience being here in the UK getting mentored by world leaders, trained and engaging in top level meetings with some of the most powerful and influential change makers of our time. Perhaps the most humbling part is being part of a network of fellow young leaders across the Commonwealth whose knowledge and resource base is far reaching. I can't wait to see what we do with these valuable connections in the future."
Kennedy Ekezie-Joseph, 20, said: "I am honoured to be a recipient of the final ever Queen's Young Leaders Award from Her Majesty The Queen. As a budding global leader, this Award is a huge responsibility for me moving forward to continue to live up to this Award and leverage all the opportunities it presents to develop my society. I have been able to meet other Award winners and learn about the incredible work they are doing across the Commonwealth. I have learned so much from the Residential Programme in the UK and I am sure that it is only just the beginning."
Sir John Major, Chairman of The Queen Elizabeth Diamond Jubilee Trust who congratulate thr three 2018 Queen's Young Leaders and other Award Winners from the last three years describing them as completing " a unique, 240-strong cohort of Young Leaders from all across the Commonwealth.
This is such an invaluable resource for the Commonwealth that The Queen Elizabeth Diamond Jubilee Trust will be launching a legacy fund, to ensure that our support and encouragement to our Young Leaders will continue beyond the lifetime of the Trust. He added
He also said; The now complete Queen's Young Leaders network forms a unique, dedicated and powerful group of young people from 53 Commonwealth countries who will connect, collaborate and change lives together for years to come.
To further support them in their future endeavours, a £200,000 Legacy Fund has been created. It will be open to all 240 Queen's Young Leaders and 282 highly commended runners-up to apply for grants that will help elevate their work and enable them to work together to tackle some of the most pressing issues facing the Commonwealth.
Source: Naija News