DSS Lists Achievements Against Terrorists, Kidnappers, Cultists And Armed Robbers In Nigeria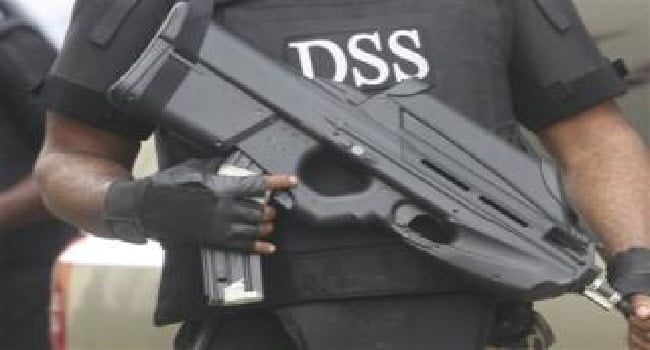 DSS Outlines Success Stories
The Department of State Services (DSS) has rolled out a detailed list of its achievements in the continued fight against crime and insecurity in the country.
According to a statement signed by Tony Opuiyo, of the National Headquarters of the Department of State Services in Abuja on Thursday, 21st June, 2018, a copy of which was made available to Naija News, the achievements were recorded sometimes in collaboration with other security operatives in the country.
The full statement reads:
"The Department of State Services wishes to apprise the public of its successes in its determination to rid the country of crime. It is to this end that the Service singularly or in conjunction with sister security agencies embarked on series of operations aimed at degrading or eliminating the capabilities of unscrupulous elements including suspected kidnappers, cultists, fraudsters, militia members and terrorists."
"On 17th June, 2018 at Karu Village, Abuja, two (2) members of the dreaded BASALUBE kidnap group, namely USMAN (aka Siddi) and Ibrahim MUHAMMED (aka Ganaja) were apprehended. It will be recalled that the duo had been involved in several kidnap activities, notably those of Ayodele ARISE (Sen.) on 5th December, 2017 in Kogi State and a Portuguese National, Emmanuel MACHADA (late) earlier on 24th October, 2017 during which two (2) Policemen were killed in the same Kogi State. In order to flush out the BASALUBE kidnap gang, the Service further carried out an operation in which one of the group's notorious members, Tambaya UMAR, was arrested on 24th April, 2018 at Odigie Village, Ovia North-East LGA, Edo State. UMAR was arrested alongside Ibrahim ALI, Abubakar MOHAMMED, Aliyu MANU and Umar MOHAMMED for their complicity in the group's numerous criminal acts."
"Earlier in the year, on 27th March, 2018, at Calabar town, Cross River State, five (5) members of a kidnap syndicate namely; Simeon PAUL, Emmanuel Anna ETIM, Eric John OUT, Famous Eket OLEKE and Felix Bassey ESHET were arrested. The underlisted items were recovered from the gang:
i. 1 AK-47 Rifle;
ii. 3 empty AK-47 Magazines;
iii. 38 rounds of live ammunition;
iv. 2 live rounds of 9mm ammunition;
v. 1 Mossberg pump action rifle; and
vi. 15 live cartridges of ammunition.
"On 14th April, 2018, Adamu HASSAN (aka Aiki), the dangerous gang leader of a kidnap syndicate was arrested at Ogbomosho, Osun State. HASSAN was responsible for the kidnap of a Pastor at Ibillo, Edo State. Five (5) Pump Action Rifles and Nine (9) loaders were recovered from him during his arrest. Initial investigation and confessions of HASSAN led to a follow-up operation on 23rd May, 2018. During this operation, Umar ABDULLAHI (aka Wukari) and Hassan AHMED, gunrunners and associates of Aiki were apprehended at Ishua, Akoko-South East LGA, Ondo State. The duo was in possession of five (5) pump action rifles."
"Determined to continuously thwart the budding cells of the Islamic State in West Africa (ISWA) and Boko Haram, the Service conducted special operations on identified targets. This led to the successful arrest of Bashiru ADAMS and RUFAI SAJO, commanders of the group on 5th May, 2018 at Kukuntu Village, Gwagwalada Area Council, FCT, Abuja. Relatedly, the Service had on 28th April, 2018, at Muda Lawal Market, Bauchi, Bauchi State, arrested another member of the ISWA, Umar DOGO. The suspects were discovered to have concluded plans to not only perpetuate the ideals of the Movement in the area, but to, in collaboration with Boko Haram, carry out heinous violent attacks on innocent persons. Following intelligence reports, Adamu HASSAN (aka Bale) and Abubakr ABUBAKAR (aka Alhaji /Buba), experts in Improvised Explosive Devices (IEDs) assembly were arrested. Also on 12th and 19th April 2018, at Gassol and Ardo LGAs of Taraba State, Mohammed SALEH (AKA Azrak) and Iliyasu ABUBAKAR (aka Ruwa), Boko Haram members and cattle rustlers were respectively apprehended."
"Between 9th and 29th May 2018, several associates of the dreaded kidnapper, Terwase AKWAZA (aka Gana) were arrested at various locations in Benue State. Those arrested are: Ada Kajo JAMES, Tikaa Ornen DESMOND and Joseph IKPA. A Toyota Venza Sport Utility Vehicle was recovered from the suspects. Similarly, on 29th May, 2018, Umar ALI, leader of a kidnap syndicate notable for operating around Edo and Delta States was arrested at Oghara, Ethiope West LGA, Delta State. Also arrested were some of Ali's lieutenants, namely: Faruk BELLO, Bello ALI, Mohammed ALI and Abdullahi ALI. This gang was responsible for the abduction of a Turkish national in Ifaki, Ekiti State on 6th May, 2018."
"On 14th May, 2018, the Service rescued a kidnap victim, Bimbo ADEBIYI upon a raid of the group's hideout at Grace Estate, Ajah, Lagos State. Other members of the kidnap gang that were apprehended include:
i. Tunde AKINSOLA;
ii. Wakil ALADE;
iii. Olumide BRAIMOH;
iv. Raymond ADINGIOU;
v. IsiaqABESIN;
vi. Victoria NWABUEZE; and
vii. Zabala AMOLOKWE
"On 9th May, 2018, around Katibu Village, Lau LGA, Taraba State, a joint team of the Service, the Military and the Police while on a clearance patrol, encountered an ambush by a group of armed herdsmen, numbering about 100. The operatives' superior firepower forced a retreat by the attackers. However, during the confrontation, 10 herdsmen were killed and several others escaped with bullet wounds. The following items were recovered – 2 AK-47 Rifles, 1 G3 rifle, 3 dane guns, 2 cutlasses, and 4 motorcycles. On 25th May, 2018, Abdulhameed MUSA and Adamu ABDULKAREEM, both members of a militia group terrorizing villages in Nasarawa State were arrested at Yelwa Village, Doma LGA of the State."
"On 24th May, 2018, along Lafia-Akwanga road, Nasarawa Eggon, Nasarawa State, an arms courier, Adamu HAMZA was arrested while transporting arms and ammunition to kidnap syndicates operating within the Katsina and Zamfara Axis. The consignment was transported in a Red Volkswagen Golf car with Lagos registration number FK-390-EL. On 1st June 2018, a joint operation with the military at North Bank, Makurdi led to the arrest of Akpenlamun UTO, a notorious gunrunner and kidnap kingpin whose activities have no doubt fuelled violent attacks around this locality."
"Previously, on 6th June, 2018, at the Boys' hostel of Kogi State University (KSU), Anyingba, fourteen (14) suspected cultists were arrested over repeated cult clashes at the Institution. Items recovered from the suspects include: 1 locally made Pistol, 1 browning Pistol, 1 shot gun, live cartridges; an axe, a machete and GSM Phones. On the same date, an internet fraudster, Obinomhe Omonjele DANIEL, who clones the social media accounts of security personnel, and uses same to defraud unsuspecting members of the public was arrested at Egbe, Uromi, Esan North LGA, Edo State. While other accomplices of his, particularly, SABI BOY are on the run, investigations are ongoing."
"With these arrests, it is envisaged that calmness will return to otherwise volatile areas where these criminals had held sway. The Service is therefore poised to consolidate on these successes and bring about an atmosphere in which law abiding citizens will pursue their legitimate businesses. While reassuring everyone of their safety, the Service calls upon people who may have useful security information not to hesitate to volunteer same to the appropriate security agencies and formations."
Download NAIJA NEWS app: