Lagos Lawyer Sues Saraki, Ekweremadu Over Summon Of IGP Ibrahim Idris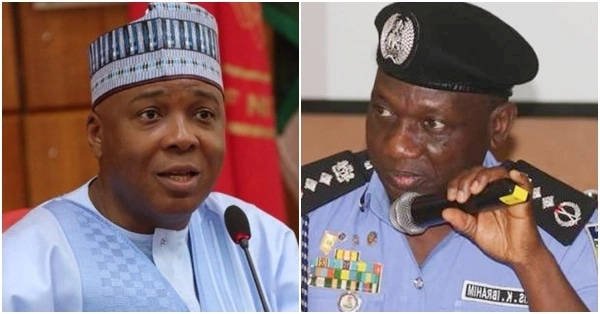 Invitation Of Police IG Is Undue interference With Police Constitutional Power Says Lagos Lawyer
Senate President Bukola Saraki has been sued for describing the Inspector General of Police, IGP, Ibrahim Idris as unfit to run for public office.
A Lagos-based lawyer, Mr. Debo Adeleke, in the suit before a Federal High Court, seeks an order of court declaring that the National Assembly, Senate President, Saraki and Vice, Ike Ekweremadu, are not courts of law, hence lack the jurisdiction and vires to declare the Police boss a persona non grata and unfit to hold public office within and outside Nigeria and as an enemy of democracy.
The applicant also petitioned the court for an order to declare that the power of the Senate of National Assembly to invite a public officer under its power of investigation in Section 88 of 1999 Constitution (as amended), is limited and it is only to enable it to make laws with respect to any matter within its legislative competence and correct and defect in the existing laws.
And to expose corruption, inefficiency or waste in execution or administration of laws within its legislative competence and in the disbursement or administration of funds appropriated by it.
He noted that the Inviting Idris over the arrest and arraignment of Senator Dino Melaye was subjudice and undue interference with Police constitutional power of investigation, arrest and arraignment of suspects.
In his 27-paragraph affidavit in support of the originating summon, Adeleke averred that he instituted the suit to defend and uphold the sanctity of the Constitution of Federal Republic of Nigeria, noting that it is of public interest.
Naija News recalls that the Senate had declared Idris ''unfit to hold position in and outside Nigeria and an enemy of democracy'' over his repeated failure to appear before it.
Joined as co-respondents in the suit are the Senate of National Assembly and Deputy Senate President, Ike Ekweremadu, as the first and third respondents, respectively.
Source: Naija News