Fayemi's Democratic Credentials Good For Ekiti – Group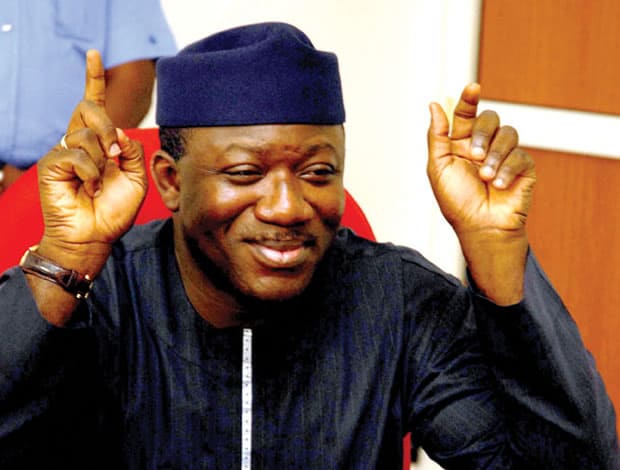 Ekiti Recovery Movement (ERM), an interest group, has called the governorship ambition of Dr. Kayode Fayemi of the All Progressive Congress (APC) to be supporter by all the people of Ekiti State.
The group added that since Fayemi was part of the Nigerians who fought for the recognition of the elections of June 12 1993, he has the democratic credentials to lead the state.
Lekan Soyombo and Femi Osabinu the Coordinator and Secretary of the group, in a statement applauded President Muhammadu Buhari for honouring the memory of the winner of the election, Chief M.K.O. Abiola and declaring June 12 as the Democracy Day.
The body also lauded the contributions of the late Chief Abraham Adesanya, the late Chief Bola Ige, the late Chief Gani Fawehinmi, the late Chief Olanihun Ajayi, the late Dr. Beko Ransome Kuti, Asiwaju Bola Tinubu, Prof. Wole Soyinka, Chief Ayo Adebanjo and Mr. Ayo Opadokun to the June 12 struggle.
The ERM stated that the electorate in Ekiti State should give Fayemi an opportunity to govern the state again as he was he said understand the ideals of democracy, the mandate to assume the reins of governance.
The statement said: "This year anniversary in its peculiarity, signaled to us another privilege to reorder our system to allow a pro-democracy like Dr Kayode Fayemi be in charge of affairs of government in Ekiti State as July 14 approaches.
"We implore the Ekiti people to use sound measure and quality calculative indices to make their choice through ballot and disregard unbridled adventures of Governor Ayo Fayose. That Fayemi is enlisted amongst the many distinguished patriots and heroes of this Year June 12 awards events in Abuja, is an eloquent testimony that he has paid his price and borne out errand for progress with commendable constancy.
"He is the only candidate and the only close ally who had in the past years participated and understood the tenet of participatory democracy, who have also acquired the wherewithal and possessed the technical know-how to lead the people of Ekiti State to the Promised Land.
"Affairs of a state is such a serious business that should not be committed into the hands of jesters and strangers who has no single history of patriotism other than comical opportunism.
"We are challenged to come out as a progressive team, poised with the radical need to rescue Ekiti from the snare of the selfish, greedy and uncompassionate individuals who maneuvered their ways to power as a result of hitch that characterized our electoral system."