Still On June 12 And PMB Honourary Award To MKO Abiola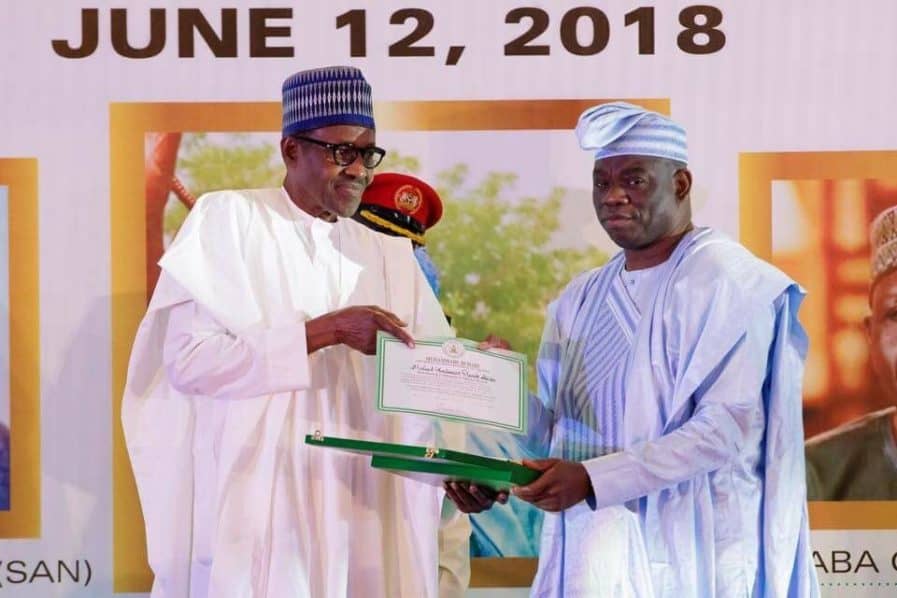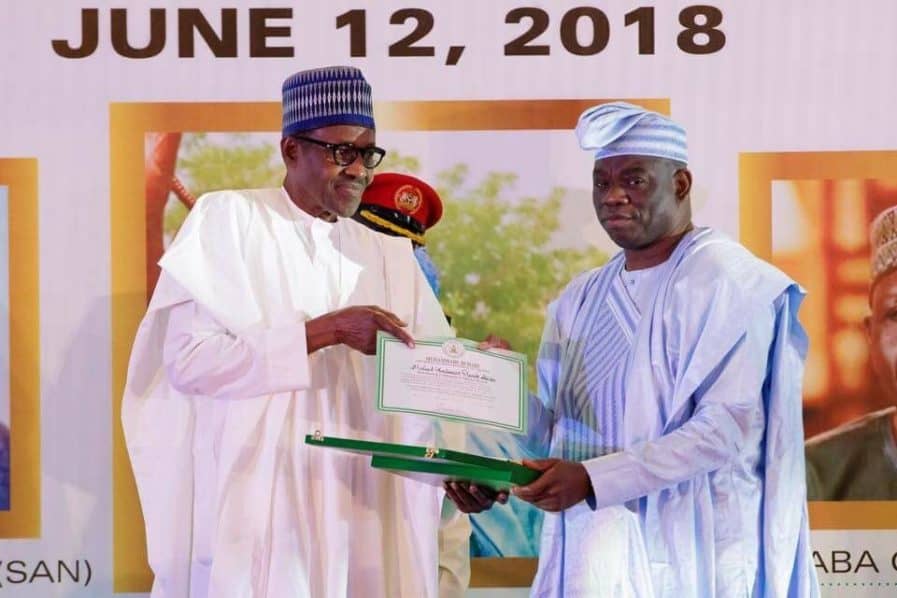 As Nigerians especially Yorubas still basketing in an euphoria of honourary award of GCFR being conferred on Chief Moshood Kashimawo Olawale Abiola on the 12th, June 2019, by the President Muhammadu Buhari, lest we should not forget that the battle line was not over until the announcement of June 12 and Abiola is pronounced as the winner of the election instead of presumed winner of the election and MKO Abiola is recognized as former President of the Federal Republic of Nigeria, and all his entitlement is estimated and given to the members of his family, then our so call jubilations by Nigerians will then get to the peak and gallery.
Anyone in this country can be given national honours as it is stipulated in the Nigerian Constitution, as it was been done by the former President of Nigeria since immemorial and the existence of Nigeria, the first African richest man, Chief Aliko Dangote and the business magnate Chief Mike Adenuga was once given GCON respectively for their meritorious contribution to the growth and development of the country, which equivalent to the Vice President position, now the questions; what manner of honourary award being given to MKO Abiola? Is it attract any compensation whatsoever? We do not need to deceive ourselves with the highest position being conferred on MKO except the election is announced and declare Abiola as winner of the election, moreover all benefit entitled to should be given to his family, then Nigerian will be more grateful than ever before now, even appreciate PMB more.
Before the hailers run haywire for the conferment of GCFR on Chief MKO Abiola, let it not be that of people who would be suckers for a deceitful electioneering rogue promise to make June 12 as democracy day, ahead of 2019 polls. What happened to PMB election promises three years ago, in terms of power, security, jobs, welfare and many more? What really amazed me was the seemingly June 12 victims celebrating fake tokenism that adds little or no value to Nigerians, especially South-West. Ex-president Goodluck Ebele Jonathan tried the same thing but failed in this deceitful use of MKO Abiola by foolishly renaming the University of Lagos after Abiola and the smart people rejected the Greek gift.
After this tokenism continue the failed, fraudulent appeasement of the Yoruba west started by Abiola victory, the annular General Ibrahim Badamosi Babangida, who nominated OBJ who misruled us for eight good years. What goes with PMB deceitful tokenism for the west that enthroned him and he stabbed them in the back? Does PMB believe in Abiola philosophy of the masses enjoying the fruits of God resources, already hijacked by cabals? Let's think deeply especially we (Yorubas), reflect; lest before we enter another 2019 one-chance bus again.
The mistake being made by the two former President, OBJ and GEJ was their refusal to immortalize MKO Abiola who fought and shed his blood for the democracy being enjoyed by the power drinking politicians who were bent on truncate the transition programme with their greed and looting aspiration, many of them were not part of the June 12 struggle then, the likes of Asiwaju Bola Ahmed Tinubu, Late, Pa, Abraham Adesanya, Prof. Wole Soyinka, Chief Yinka Odumakin, Dele Momodu, Late, Pa, Alfred Ruwani, Late, Chief Bola Ige, Chief Ayo Adebanjo, Chief Ayo Opadokun, Pa Reuben Fasoranti to mention but a few were the ones let democracy possible in this country, while some went on exile some stand on the achieving of June 12.
What does it take Obasanjo and Jonathan to recognize and immortalize MKO posthumously after it is legacy they will build without bringing back Abiola to life to enjoy the immortalization, they are now burying their faces in shame for the fact that they could not grace the occasion with flimsy excuses for not being in the country by OBJ which happened to be the same hometown with Abiola and even schooled together, they attended Baptist Boys High School, Abeokuta and they are in the same age bracket. Kudos to President Muhammadu Buhari for the giants and bold step being taking in honouring Abiola posthumously and shame the enemy of democracy.
The 12th of June is marked with public holidays in only Lagos, Osun, Oyo and Ogun states then but now it will be observed nationally as from next year. The 1993 elections were fairest and most credible elections Nigeria has ever had. The man under the limelight is Chief Moshood Kashimawo Olawale Abiola, MKO, who is one of the martyrs of Nigeria's Democracy, a former business tycoon and a philanthropist. MKO Abiola was the undisputed winner of the 1993 elections. Abiola died under suspicious circumstance shortly after the death of General Sani Abacha. He died on the day he was due for release, July 7 1998. In order to appease the Westerners, Obasanjo was picked from prison as substitute and furnished with all the resources needed for campaign, endorsement rather, to emerge as the first President of the fourth republic. In place of MKO Abiola, we were given a more loyal western puppet, Obasanjo.
If we look critically, Abiola and Obasanjo had so many things in common and that probably must have informed the cabal's choice for Obasanjo after Abiola's death. Abiola and Obasanjo hail from Ogun State, they attended the same secondary school – Baptist Grammar school in Abeokuta, where Abiola was the editor-in-chief of their school Magazine (The Trumpeter) and Obasanjo was his assistant. Both men share almost the same circle of friends, they are considered legend in their own right and are being celebrated by the Yoruba nation. Abiola and Obasanjo are also polygamists, and frankly, they share a remarkable degree of resemblance. Both are philanthropists but one of them exhibits more philanthropy than the other, you can guess which. In any case, their generosity has earned them over 30 traditional titles each and multiple awards that they have lost count. Both men have been wrongly convicted and sent to prison for crimes they did not really commit.
On the other hand, Abiola proved to be more academically sound. He bagged first class honours degree in Accountancy from the University of Glasgow, Scotland. He also received a distinction from the Institute of Chartered Accountants of Scotland. Academically, not much is said about Obasanjo since he completed his Military school in Kaduna. Chief MKO Abiola had been a politician and an entrepreneur right from the sixties even up to his death, whereas Obasanjo was a military man cum politician/businessman.
Abiola was a Muslim though he was not keen about religiosity, but Obasanjo appears to be an 'ardent Christian'. Perhaps the most distinguishing politically ideological difference between the two was that Abiola was more of a socialist while Obasanjo was a capitalist. Abiola was sensitive to the yearnings of the masses and that brought him unwavering support from all the commoners within the federation, Obasanjo was brought in for the sake of democracy in 1999.
While I am not an adherent of "Democracy day" celebration (because I feel it should be encapsulated in the Independence Day), I believe the June 12 remembrance is more justifiable being the day Nigeria was denied the right to have a saner and more purposeful people-minded democracy. Obasanjo arbitrarily chose May 29 to be remembered as "Democracy Day" because he was the one who was handed the democracy baton. If he or Abdul Salami Abubakar had been a little more patient and waited 14 days longer, June 12 would have been our democracy day, and as such, it would have had more significance, thus avoiding the May 29 parody.
Thanks to PMB for recognizing June 12 as "Democracy Day" after 19 years of uninterrupted transition programme and after recalcitrant of past Presidents of Nigeria which include; Olusegun Obasanjo, Musa Yar'adua and Goodluck Jonathan to give the honour to whom is due. Yorubas will never forget President Muhammadu Buhari for his well recognition of June 12.
Khalid, a political/public affairs analyst, wrote from Epe, Lagos State.