Asaba Ladies League Pays For Indigent Patients Bills In Lagos Island Maternity Hospital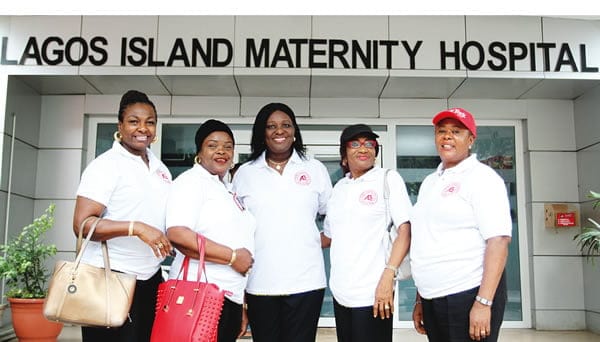 NGO Group Pays For Patients Medical Bill In Commemoration Of The Women's Day And Children's Day
Asaba Ladies League, a non-governmental organisation, gave three families reasons to smile in Lagos, on Wednesday, after paying the medical bills of indigent patients at the Lagos Island Maternity Hospital on the Lagos Island.
Report had it that the step was taken by the Non Government Organisation in commemoration of the Women's Day and Children's Day.
Mrs Vickie Agili, the President of the NGO, explained that the group helped the less privileged, adding that a good number of projects had been executed in Asaba, Delta State, and Lagos.
She said, "Asaba Ladies League is a philanthropic organisation that helps the less privileged. Because the Children's Day and Women's Day are celebrated in May, we thought that maternity hospitals would have both children and women. That was the reason we chose the Island Maternity Hospital, having confirmed that they had indigent patients that could not pay their bills.
"We spent the sum of N327,000 to pay for the medical bills of three patients and the reaction from those patients brought tears to my eyes; they were filled with joy.
"Last year, we did a project at Pacilli School for the Blind in Surulere, Lagos. We also visited the Mother of Divine Grace Orphanage Home and St. Joseph's Catholic Church Old People's Home' in Asaba, Delta State."
Dr Eugenia Williams, the Vice President of the group, said although membership of the NGO was restricted to female indigenes and wives of Asaba natives, the organisation executed projects that benefited all Nigerians.
She said, "If you take a good look at the patients who benefited from this project, you will realise that none of them is from Asaba. In fact, these patients never knew our intention when we came. But when they were informed about the organisation's intent, they were excited. They could not believe it; it took them by surprise.
"Charity is good. In our society, we have so many jobless and homeless people; we need to reach out to them. We are encouraging ourselves to do more."