Bribe: Jega's Comment On NASS Members Embarrassing – Saraki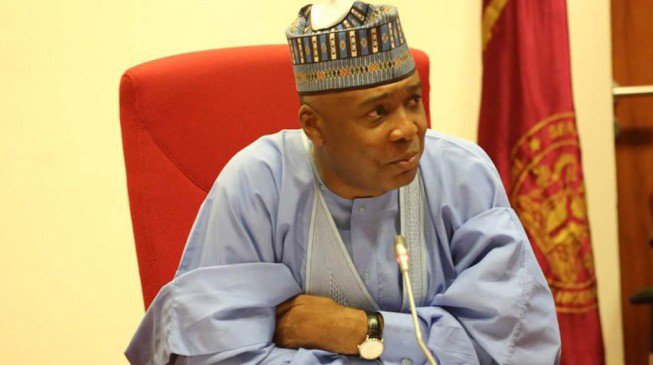 Senate President, Bukola Saraki has described as "embarrassing" allegations by a former Chairman of the Independent National Electoral Commission (INEC) Prof. Attahiru Jega, that members of the National Assembly are bribe-takers.
Jega had during his lecture organised to commemorate the 2018 Democracy Day, titled "Peace building and good governance for sustainable development in Nigeria," said chairmen of committees in the National Assembly were more notorious for bribe taking antics.
The former INEC boss told the gathering that included President Muhammadu Buhari; President of the Senate, Bukola Saraki; Speaker of the House of Representatives, Yakubu Dogara; and the Chief Justice of Nigeria, Walter Onnoghen, that the federal lawmakers took bribes at will under the pretense of committee work and oversight functions.
He advised that the current administration to take anti-corruption war beyond embezzlement and theft alone, but stressed that the fight should extend to bribe giving and bribe taking, especially in government establishments.
Jega had said "Members of the National Assembly engage in bribe taking when they pursue committee works and oversight and I wonder what is happening with intelligence and investigative responsibilities of security agencies in policing our National Assembly. Some chairmen of the committees in the National Assembly have become notorious on this issue of demanding bribes with impunity.
"I have passed through the university system. I have heard so many stories of many vice-chancellors about the horror that they go through on question of budget and so-called oversight assignments."
At the plenary on Wednesday, Senator Isa Misau raised a point of order to call the attention of the Senate to Jega's allegation.
Misau said, "My point of order is based on the lecture made during the Democracy Day (anniversary). President of the Federal Republic of Nigeria was in attendance. During the lecture, the guest lecturer, who is an elder statesman and the former Chairman of INEC, Prof. Attahiru Jega, made a statement which I feel I have to bring it to this floor.