Health Workers' Strike: Saraki, JOHESU To Meet Again Today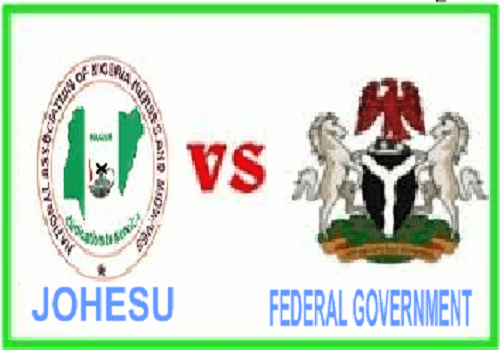 Saraki Appeals To All Concerned Stakeholders To End Health Sector Strike
In an attempt to resolve the dispute between the Joint Health Sector Unions (JOHESU) and the federal government, the  Senate President, Bukola Saraki, has agreed to  meet with the leadership of the union for the second time.
Naija News reports according to information from the Senate President's media office, stating that the meeting will hold in Dr Saraki's office by 3 pm.
The Senate President also confirmed it through his twitter handle.
Following my meeting last Friday with the Ministers of Labour and Health, I will be having a follow up meeting tomorrow with the leadership of JOHESU, the second in under a week.

— Bukola Saraki (@bukolasaraki) May 27, 2018
The health workers had embarked on strike in April, accusing the Federal Government of failing to honour terms of agreements it reached with JOHESU since 2009, especially the agreement reached on September 30, 2017, which had a time frame of five weeks.
As part of efforts to end the lingering strike which has pitched JOHESU against the doctors, the Senate President as earlier reported by Naija News, held a meeting with JOHESU and the Minister of Labour, Productivity and Employment, Dr.Chris Ngige and Minister of Health, Professor Isaac Adewole, last Friday.
Since the meeting, the Senate President hinted that some progress had been made to bring the strike to an end as reports suggest the federal government has made a better offer to the union.
He said, "If it is true that government has improved on its offers to JOHESU, it will be desirable for the health workers to also stretch out a hand of fellowship – in good faith – to meet the government mid-way and accept the offer, so that we can finally resolve this matter and have a win-win situation for the union, the government and the Nigerian people who make use of our public health institutions."
Dr Saraki's meeting with the striking workers followed the resolution on May 15, 2018, to intervene in the crisis which it observed could hamper Nigeria's ability to prevent or react to another Ebola virus outbreak in Nigeria.
The concerns followed the Ebola outbreak in Congo.