Gov Fayose Mocks Buhari, Obasanjo Over Latest War Of Words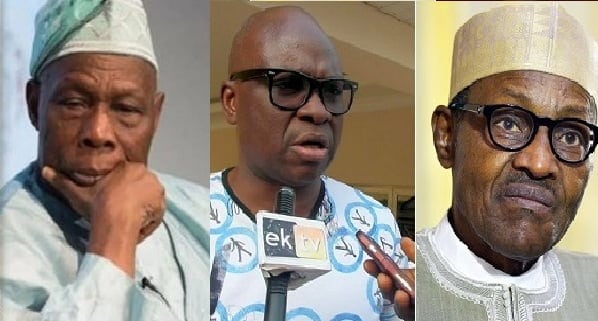 Fayose Mocks Buhari And Obasanjo
The Ekiti State Governor Mr Ayodele Fayose has mocked  President Muhammadu Buhari and former President Olusegun Obasanjo over their latest verbal war caused by the $16 billion allegedly spent on power during the tenure of the former President.
Naija News learnt that Fayose, took to his Twitter handle to mock the two leaders, saying he was enjoying the public display of what he called 'brickbats' between them. He said:
I'm enjoying this latest brickbats between President Buhari & Ex-President Obasanjo.They should keep exposing themselves for Nigerians to know what they have been hiding.Nigerians should remember I warned that those who brought Buhari will regret entrusting him with power.

— Peter Ayodele Fayose (@GovAyoFayose) May 23, 2018
The former President has been very unrelenting in his clamour that Buhari has not only failed but should quit in 2019. To achieve the goal, he has formed a movement that has since metamorphosed into a political party.
Buhari on his part, had said that Obasanjo has questions to answer regarding the $16 billion expended on power project. He stated this when his support group led by the Comptroller General of customs, Hameed Ali paid him courtesy call.
However Obasanjo replied saying that the president was ignorant, urging him to avail himself of his aide to translate his book if he is unable to read.
Source: Naija News